This is a weekly bookish meme hosted by MizB at
Should Be Reading
.
* Share two (2) "teaser" sentences from somewhere on that page
* BE CAREFUL NOT TO INCLUDE SPOILERS!
(Make sure that what you share doesn't give too much away! You don't want to ruin the book for others!)
* Share the title & author, too, so that other TT participants can add the book to their TBR Lists if they like your teasers!
Quarterback Draw (Play-by-Play, #9) by Jaci Burton
Playing For Keeps

Grant Cassidy knows how to be a football star—flash that dazzling smile, throw the winning pass, get the girl. But while the hot quarterback loves the game and the lifestyle, no woman has come close to catching his heart. Then he matches wits with a smart, gorgeous model, and Grant finds himself wanting more than a fling.

Supermodel Katrina Koslova might live in a world of glitz and camera flashes, but she works hard to provide for the family that relies on her. She doesn't have time for fun—much less a boyfriend—but Grant seems determined to be the exception to Katrina's rule.

Their explosive chemistry is undeniable, but Katrina's afraid to let go and rely on anyone but herself. Grant intends to ease her fears and prove he's a man of style and substance.
Available February 3rd from Berkley Trade.
Teaser...
"That was different. You barged in on my time with my favorite book."
"Duly noted. Don't get between you and your books. Otherwise you're totally approachable."

"Okay, maybe not so much. It's not that I don't date anyone famous. I don't date...anyone." (Page 20)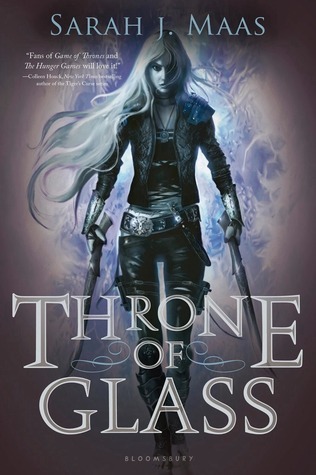 Throne of Glass (Throne of Glass #1) by Sarah J. Maas
In a land without magic, where the king rules with an iron hand, an assassin is summoned to the castle. She comes not to kill the king, but to win her freedom. If she defeats twenty-three killers, thieves, and warriors in a competition, she is released from prison to serve as the king's champion. Her name is Celaena Sardothien.
The Crown Prince will provoke her. The Captain of the Guard will protect her. But something evil dwells in the castle of glass--and it's there to kill. When her competitors start dying one by one, Celaena's fight for freedom becomes a fight for survival, and a desperate quest to root out the evil before it destroys her world.
Teaser...
"Get up," Chaol snarled in her ear. "Now."
She sat up with a jolt, the world bright and foggy. Several lesser nobles in her pew laughed silently. She gave Chaol an apologetic look and turned her gaze to the altar. The High Priestess had finishedehr sermon, and the songs of Yulemas were over. She only had to sit through the procession of the gods, and then she would be free.
"How long was I asleep?" she whispered. He didn't respond. "How long was I asleep?" she asked again, and noticed a hint of red in his cheeks. "You were asleep, too?"
"Until you began drooling on my shoulder."
Guest Teaser...
#ThomasTuesday
#BeautifulRedemption
#ItsClassified
Those are our teasers for this week! What do you think? Do you have a teaser to share? Leave us a comment!