This is a weekly bookish meme hosted by MizB at
Should Be Reading
.
* Share two (2) "teaser" sentences from somewhere on that page
* BE CAREFUL NOT TO INCLUDE SPOILERS!
(Make sure that what you share doesn't give too much away! You don't want to ruin the book for others!)
* Share the title & author, too, so that other TT participants can add the book to their TBR Lists if they like your teasers!
Hero By Night by Sara Jane Stone
He was nobody's hero until he landed in the wrong bed…

Armed with a golden retriever and a concealed weapons permit, Lena Clark is fighting for normal. She served her country, but the experience left her emotionally numb and estranged from her career-military family. Staying in Independence Falls seems like the first step to reclaiming her life until the town playboy stumbles into her bed…

Chad Summers is living his dream—helicopter logging by day and slipping between the sheets with Mrs. Right Now by night. Until his wild nights threaten his day job, leaving Chad with a choice: prove he can settle down or kiss his dream goodbye. But when he ends up in the wrong bed, the one woman in Independence Falls he can't touch offers a tempting proposition. Chad is ready and willing to give in to the primal desire to make Lena his at night—on one condition. By day, they pretend their relationship is real.

But their connection extends beyond the bedroom, threatening to turn their sham into reality if Chad can prove he's the hero Lena needs night and day… forever.
Available 1/20/15 from Avon Books
Teaser...
She nodded as she opened the door and climbed down from his truck.

"And Lena?"

She glanced over her shoulder, her dog pressing against her side the minute her feet touched the ground.

"Dream of me." (Kindle Location 1214)
I meant to only read the first chapter to decide if I wanted to read this one next. Yeah, well I ended up at 61% and struggled to put it down so I could go to bed for work the next day. So, yeah. What you think?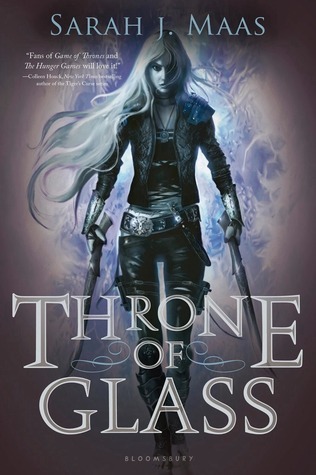 Throne of Glass (Throne of Glass #1) by Sarah J. Maas
In a land without magic, where the king rules with an iron hand, an assassin is summoned to the castle. She comes not to kill the king, but to win her freedom. If she defeats twenty-three killers, thieves, and warriors in a competition, she is released from prison to serve as the king's champion. Her name is Celaena Sardothien.
The Crown Prince will provoke her. The Captain of the Guard will protect her. But something evil dwells in the castle of glass--and it's there to kill. When her competitors start dying one by one, Celaena's fight for freedom becomes a fight for survival, and a desperate quest to root out the evil before it destroys her world.
Teaser...
"Celaena." She blinked, her cheeks burning. Chaol's features softened. "He's just a man. But a man you should treat with the respect his rank demands." He began walking with her again, slower. "This meeting is only to remind you and the other Champions of why you're here, and what you're to do, and what you stand to gain. You're not on trial. You will not be tested today." They entered a long hallway, and she spied four guards posted before large glass doors at the other end. "Celaena." He stopped a few feet from the guards. His eyes were rich, molten brown.
"Yes?" Her heartbeat steadied.
"You look rather pretty today," was all he said before the doors opened and they walked forward. Celaena raised her chin as they entered the crowded room.
GUYS. I am reading this book right now and loving it and I cannot fathom WHHHHHHHHY I took so long to pick this one up. It's amazing! What do you think?
Those are our teasers for this week! What do you think? Do you have a teaser to share? Leave us a comment!