Join the Book Boyfriend meme
Pick your book boyfriend for the week
Current read or not
Tease us with something about your boy
Don't spoil the book
Link up with us
Visit the other book boyfriend posts
So the book boyfriend for this week is...
Chaol Westfall!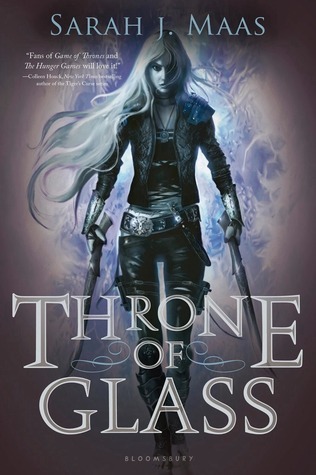 Throne of Glass (Throne of Glass #1) by Sarah J. Maas
In a land without magic, where the king rules with an iron hand, an assassin is summoned to the castle. She comes not to kill the king, but to win her freedom. If she defeats twenty-three killers, thieves, and warriors in a competition, she is released from prison to serve as the king's champion. Her name is Celaena Sardothien.
The Crown Prince will provoke her. The Captain of the Guard will protect her. But something evil dwells in the castle of glass--and it's there to kill. When her competitors start dying one by one, Celaena's fight for freedom becomes a fight for survival, and a desperate quest to root out the evil before it destroys her world.
This book has two guys--Chaol and Dorian. Personally, I'm a fan of Chaol all day every day. Dorian definitely has more obvious swoon moments, but Chaol...he's important. He's more subtle, and those little things about him and with him dug inside me and now I just really freaking heart him.
So let's get to examples. Because those are my favorite part.
When he thought things like this, I felt pretty darn happy...
She was deceitful, cunning, vicious.
But he couldn't make his feet move.
With each day, he felt the barriers melting. He let them melt. Because of her genuine laugh, because he caught her one afternoon sleeping with her facein the middle of a book, because he knew that she would win.
And because he did this...
With Nehemia gone, she still had to keep watch, but maybe she could attempt to have a little fun, too. "With you scowling at everyone, no one will ask me to dance."
Chaol's dark brows rose. "I'm not scowling at everyone." Even as he said it, she spotted him frowning at a passing courtier who looked too long in Celaena's direction.
This. Moment. ...
"Chaol," she said, grabbing his hand and whirling him to face her. She only saw the haunted gleam in his eyes before she threw her arms around his neck and held him tightly. He straightened, but she crushed her body to his, even though it still aggravated her wounds to do so. Then, after a moment, his arms wrapped around her, keeping her close to him, so close that as she shut her eyes and breathed him in, she couldn't tell where he ended and she began.
Because he said...
"Get up."
(I know that one doesn't seem important, but it IS in context. But I can't give you context because I refuse to spoil. So hey--maybe you should read this book! *hint, hint* *wink, wink*)
There are lots more with Chaol that made me love him, but they're within the little things. The parts where he stands closer than necessary and when he has complete faith in her abilities. I really, really, truly heart him, and can't wait to see more of him in the next book.
What do you think of my heart--Chaol? Do you have a book boyfriend to share? Leave us a comment!