Since it's JLA Month and Every Last Breath is releasing TOMORROW [insert ALL OF THE FLAILING here!], we're doing a readathon for the Dark Elements series!
Saturday was for Bitter Sweet Love
Sunday was for White Hot Kiss
Today, we're focusing on STONE COLD TOUCH
And then tomorrow comes Every Last Breath!
How do you participate? Super easy. Just read (or re-read!), and then head on over to the Facebook event linked below to chat. Seriously. It's that simple. YAY!
Join the conversation on Facebook!
Join event here.
So join the fun, and check out more about Stone Cold Touch below :)
Also, don't forget to keep an eye out for the word of the day! And let us know if you're Team Roth or Team Zayne or Team Bambi or what? IT'S REALLY IMPORTANT, Y'ALL.
(Personally, I'm partial to Thumper. Because, I mean.
DRAGON
. 'Nuff said.)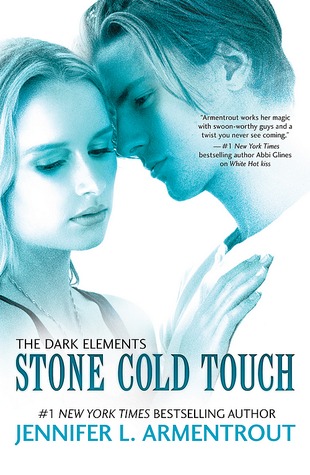 Stone Cold Touch (Dark Elements #2) by Jennifer L Armentrout
Every touch has its price
Layla Shaw is trying to pick up the pieces of her shattered life—no easy task for a seventeen-year-old who's pretty sure things can't get worse. Her impossibly gorgeous best friend, Zayne, is forever off-limits thanks to the mysterious powers of her soul-stealing kiss. The Warden clan that has always protected her is suddenly keeping dangerous secrets. And she can barely think about Roth, the wickedly hot demon prince who understood her in ways no one else could.
But sometimes rock bottom is only the beginning. Because suddenly Layla's powers begin to evolve, and she's offered a tantalizing taste of what has always been forbidden. Then, when she least expects it, Roth returns, bringing news that could change her world forever. She's finally getting what she always wanted, but with hell literally breaking loose and the body count adding up, the price may be higher than Layla is willing to pay…
Don't forget the quote contest....
The last chat (on Friday, 7/31) is the favorite quotes chat!
SO, you need to find your favorite quote!
AND
There will be a favorite quote contest to win this!
Winner's choice of one of these Dark Elements Bookmarks.
Zayne
, the warden protector
Roth,
the d
emon
These bookmarks are available and made by Hebel Design


How do you win?

Pick our your favorite JLA quote and represent it some way.

You can do a

graphic teaser

,

cut out letters

and paste them together, or

whatever your

heart desires

.

Just take a pic and email the pic to valerie @ stuckinbooks.com with the subject line JLA Quote Contest

We'll be sharing them.

And the winner will be announced at the chat!

(Please follow copyright laws when representing your quote. Quotes using pictures that are copyrighted will not be shared. StuckInBooks is not responsible for law violations in this regard.)

AND to get you thinking...

Here's a couple made by Val...
Giveaway...
a Rafflecopter giveaway