Click on the banner above to see the full tour schedule!
**About the Book**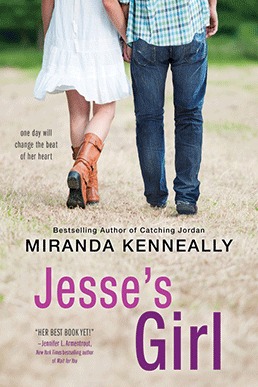 Source: e-ARC provided by the publisher in exchange for a fair and honest review.
Practice Makes Perfect.
Everyone at Hundred Oaks High knows that career mentoring day is a joke. So when Maya Henry said she wanted to be a rock star, she never imagined she'd get to shadow *the* Jesse Scott, Nashville's teen idol.
But spending the day with Jesse is far from a dream come true. He's as gorgeous as his music, but seeing all that he's accomplished is just a reminder of everything Maya's lost: her trust, her boyfriend, their band, and any chance to play the music she craves. Not to mention that Jesse's pushy and opinionated. He made it on his own, and he thinks Maya's playing back up to other people's dreams. Does she have what it takes to follow her heart—and go solo?
**Review**
I've been in love with Miranda Kenneally's Hundred Oaks series since I read Catching Jordan. It was funny and just plain awesome. Then I read Stealing Parker, and that one was great, too. I haven't read the two books after that yet--Things I Can't Forget and Racing Savannah--but I definitely want to and plan to. Then came Breathe, Annie, Breathe, which turned out to be one of my all-time favorite YA contemporaries and one of the best books I read last year. All that said, I think it's kind of obvious I was excited about Jesse's Girl. More Hundred Oaks, PLUS a title that references a song I like? Count me in.
Well, Miranda Kenneally has done it again--Jesse's Girl is a sweet, fun, and absolutely fantastic novel. Heck yeah, I loved this.
The first half of the book is about Jesse and Maya during her shadow day for school--where she's supposed to shadow someone with the profession she wishes to pursue. Wonder of wonders, she gets paired to shadow Jesse Scott, huge country music star and super attractive human. That first half of the book was amazing. I did lots of laughing and giggling, but they also had some serious moments, too, and those were strewn throughout wonderfully. In this one day, Jesse and Maya connect and have a blast, and it was awesome being there with them through it all.
At the end of the day, and in the rest of the book, reality seeps in, and things get harder... but they also get deeper. Jesse and Maya start addressing their issues and going for what makes them happy. Once shadow day was over and Maya's life went (almost) back to normal, I felt kind of let down, because things weren't as happy and generally HAPPENING. But the farther into the story I got, the more I saw how much growth was going on, and then just how plain gorgeous it all was. By the end of the novel, I was back to feeling happy as all get out, and ended it with a smile on my face.
Maya's the MC and we get the entire story from her perspective. She wants to be a musician, but is super insecure about performing solo. She's nice and cool--and so open-minded to improving. I loved that about her. Maya's growth was lovely. And can I just point out that this is Maya HENRY--as in, sister to Sam Henry from Catching Jordan?! I didn't know this was about Sam's sister going in, but I was SO SLAP-HAPPY when I realized! So yes, we got to see some Sam and Jordan, and it was hilarious and enjoyable. I especially loved seeing him more in the big brother role. Made me love him even more.
Jesse had his own issues, and he also went through his own growth. He's a good guy, but he's lonely. Dragged down by troubles that aren't really within his control. Creating a relationship with Maya was a huge step for him, and in all the time they spent together I ended up a serious fan of Jesse Scott (even though I do not like country music).
The romance was sweet. Jesse and Maya forge their connection the day they meet, but they don't end up in a serious relationship until later. I loved watching that form and evolve while Maya went about trying to make her dreams come true. Both of them were so supportive of one another, and they honestly make an amazing couple.
As per usual with books in the Hundred Oaks series, this can be read without having read any of the previous novels. I skipped two in the middle and had no trouble reading Breathe, Annie, Breathe or Jesse's Girl. (Though it really is more fun when you read them in order--which is why I plan to go back and read books 3 and 4...and then I'll re-read Annie and Jesse!) Also, it's worth mentioning that the musical aspects of this book are SO GREAT. I loved them--from the mentions of Queen to the running joke about a quilt sewn to my heart... I loved it all.
Overall, Jesse's Girl was an amazing installment to the Hundred Oaks universe. Miranda Kenneally's writing was captivating yet again, and the story of Jesse and Maya both made me smile and tugged at my heart. I cannot wait to see what comes next from Miranda Kenneally!
5 stars - Sweet, fun, and absolutely fantastic, Jesse's Girl is an amazing installment to the Hundred Oaks universe!
**About the Author**
Growing up in Tennessee, Miranda Kenneally dreamed of becoming an Atlanta Brave, a country singer (cliché!), or a UN interpreter. Instead she writes, and works for the State Department in Washington, D.C., where George W. Bush once used her shoulder as an armrest. Miranda loves Twitter, Star Trek and her husband.
Author Links:
**Giveaway**
There's a tour-wide giveaway for a $50 iTunes Gift Card! The giveaway is international, and you can enter through the Rafflecopter below! :)