This is our version of Waiting on Wednesday but with more cuddles, books we can't wait to cuddle for various reasons.
What are we waiting on this week? THIS!
'Tis the Season to Be Naughty
Connor McClain knows what he wants. And after four harrowing years in Afghanistan, that's a quiet life in the lakeside town of Evergreen Cove. But coming home has land mines of its own-the most dangerous of them being long-legged bombshell Faith Garrett. Now getting her into his arms this holiday is going to require more than mistletoe . . .
With a cheating ex behind her, all Faith wants is a relaxing holiday free from man drama. And even though every moment with gorgeous Connor is a sweet temptation, Faith is determined not to give in. But Jack Frost has other plans, and soon Faith and Connor are snowbound in a winter wonderland with only the sparks flying between them to keep them warm. As one hot kiss leads to another, they'll have to decide if they're ready to give each other the best gift of all-love.
Why am I waiting? Loved the first two books in this series and I DEFINITELY NEED this bad boy for Christmas!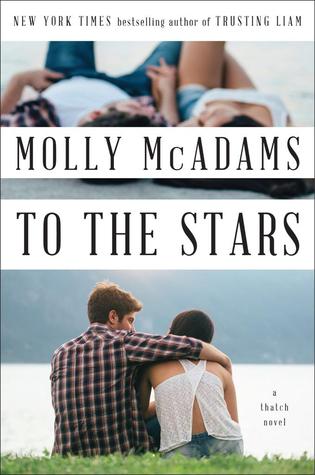 In the second book in
New York Times
and
USA Today
bestselling author Molly McAdams' Thatch series, Knox Alexander must convince his long-time love Harlow Evans that they're meant to be together.
He promised to wait for her.
She told him he was wasting his time.
Not waiting for him ended up being the biggest mistake of her life.
When they were younger, Knox Alexander swore to Harlow Evans that he would wait for her to turn eighteen so they could be together. But that was two and a half years away, and Harlow couldn't ask him to give up all the fun and thrills of going away to college for her. As the years passed, Knox remained a constant in her life—whether she liked it or not—but when her eighteenth birthday came around, Harlow's heart belonged to someone else.
Every day for the last four years, Harlow has been haunted by that fateful choice. And though he may appear unaffected by what happened in their past, Knox has always tried to fill the void Harlow left. But when he comes stumbling back into her life and refuses to leave, will Harlow finally let him into her heart…?
Releases February 9th, 2016!
Why am I waiting? Ha. You're funny. This is a Molly McAdams book. OF COURSE I'm waiting. I've BEEN waiting for something around forever now. This would have been my WOW pick a while ago, but the cover was only revealed a couple weeks ago. But anyway. I'll actually list a few things about this book that have me making my serious grabby hands. First, it's by Molly McAdams. Goodness knows I'm addicted to her stories. Second, excuse me, have you read that synopsis? Sounds. So. Good! Third, I've heard Molly McAdams talk about this book, and... Y'ALL. I need this thing in my hands. NEED. IT. And in February that'll happen. Just in time(-ish... three days early) for my birthday. Until then, grabby hands will continue to ensue. *flails*
That's what we're waiting on this week! What do you think? What are you waiting on? Leave us a comment and link us up!