This is a weekly bookish meme hosted by MizB at
Should Be Reading
.
* Share two (2) "teaser" sentences from somewhere on that page
* BE CAREFUL NOT TO INCLUDE SPOILERS!
(Make sure that what you share doesn't give too much away! You don't want to ruin the book for others!)
* Share the title & author, too, so that other TT participants can add the book to their TBR Lists if they like your teasers!
Nashville meets New Adult in Neon Dreams, a dramatic, sexy series from bestselling author Caisey Quinn, about a country band's rocky road to fame—and the ambition, dreams, and love of the people who make the music.
Dixie Lark hasn't had it easy. She lost her parents in an accident when she was young and grew up in a ramshackle house on a dirt road in Amarillo with her ailing grandparents and overprotective older brother. Thanks to her grandfather, Dixie learned to play a mean fiddle, inspired by the sounds of the greats—Johnny and June, Waylon, and Hank. Her grandfather's fiddle changed Dixie's life forever, giving her an outlet for the turmoil of her broken heart and inspiring a daring dream.
Ten years later, Dixie and her brother, Dallas, are creating the music they love and chasing fame with their hot band, Leaving Amarillo. But Dixie isn't enjoying the ride. All she can think about is Gavin, the band's tattooed, tortured drummer who she's loved since they were kids. She knows he feels the connection between them, but he refuses see her as more than his best friend's little sister.
Convinced that one night with Gavin will get him out of her system, Dixie devises a plan. She doesn't know that her brother has forbidden Gavin from making a move on her-a promise he swore he'd always keep . . . a promise that once broken will unexpectedly change the future for Dixie, Gavin and the band.
Teaser...
He winks, and I swear, she nearly strips her clothes off right there.


In that moment, I'm extremely thankful that no one's brought us silverware yet because I'm feeling pretty stabby. (Page 35)
Hehe...I so loved this scene. AND the whole book! But that cliffhanger ending, oh man. Reading Loving Dallas now and begging someone to send me Missing Dixie. I NEED IT. Like yesterday. Please oh please! Most have more. Yep, I like this series.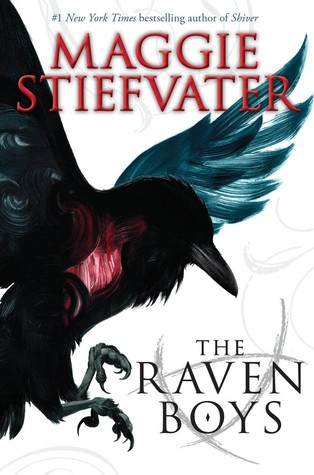 "There are only two reasons a non-seer would see a spirit on St. Mark's Eve," Neeve said. "Either you're his true love . . . or you killed him."
It is freezing in the churchyard, even before the dead arrive.
Every year, Blue Sargent stands next to her clairvoyant mother as the soon-to-be dead walk past. Blue herself never sees them—not until this year, when a boy emerges from the dark and speaks directly to her.
His name is Gansey, and Blue soon discovers that he is a rich student at Aglionby, the local private school. Blue has a policy of staying away from Aglionby boys. Known as Raven Boys, they can only mean trouble.
But Blue is drawn to Gansey, in a way she can't entirely explain. He has it all—family money, good looks, devoted friends—but he's looking for much more than that. He is on a quest that has encompassed three other Raven Boys: Adam, the scholarship student who resents all the privilege around him; Ronan, the fierce soul who ranges from anger to despair; and Noah, the taciturn watcher of the four, who notices many things but says very little.
For as long as she can remember, Blue has been warned that she will cause her true love to die. She never thought this would be a problem. But now, as her life becomes caught up in the strange and sinister world of the Raven Boys, she's not so sure anymore.
From Maggie Stiefvater, the bestselling and acclaimed author of the Shiver trilogy and The Scorpio Races, comes a spellbinding new series where the inevitability of death and the nature of love lead us to a place we've never been before.
Teaser...
"Well," said Ronan, "I hope he likes it. I've pulled a muscle."
Gansey scoffed, "Doing what? You were standing watch."
I finished The Raven Boys last week and LOVED it. The writing, the story, the CHARACTERS... these characters are fantastic. Ahhhhhh I have SO MANY lovely things to say about this book, but I'll tell y'all about them in my review that posts later this week. *flails*
Those are our teasers for this week! What do you think? Do you have a teaser to share? Leave us a comment!