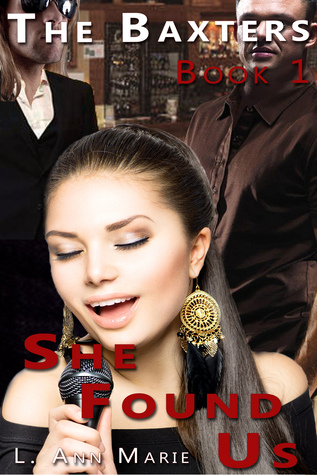 Mitch had a rough beginning. Experiencing foster care, emancipation, pregnancy and an abusive husband before she's 18 doesn't deter her from her one goal, finishing college. With her above average intelligence she has virtually no experience in socializing with her peers. A stalking ex-husband forces her to seek help from an unlikely source. While afraid of large men Mitch puts her fear aside to get to her daughter and get out of the city.
Jamie is mesmerized by her voice, her beauty and her courage. He can't let her walk away without figuring out why he feels losing sight of her will alter his life.
Kevin is stopped dead. He can't tear his gaze away from her. She is in his bed with his cousin and he can't move. He is riveted but can't understand what is causing his head to spin.
When Mitch lets go of convention and jumps into a relationship with two alpha males a sense of right and connection she's never experienced wraps her and her daughter Jess in a life she never knew existed.
Afraid of scaring her into more flashbacks they calmly and quietly introduce her to the Dom/Sub lifestyle. This ensures her safety and their need being satisfied. When they almost lose her to her psychotic ex's vow to kill her before anyone else can claim her they take steps to keep her and Jess in their lives forever.
I'm in a group on Facebook for reverse harem readers, because I love reverse harem books and they're so hard to find so recs are always appreciated. In that group, someone posted about this book (and the next two in the series) saying that they were good and free. They're not RH, but they're menage so close enough. And I hadn't heard anything about them before, but they were free so I downloaded them because why not? I started reading this book right away, because I was too busy to focus on ACOWAR but didn't want to spend what free time I did have staring at the walls. I finished it a couple of days later. And I'd say that this book is...okay-ish.
The writing is kind of really bad. I considered DNF-ing a few times when I was barely into the book, but I was too curious as to where the story would go to actually put it down. Plus, I figured that once the story got going, the writing would get better. Because it was a lot of telling and very little showing, so I thought maybe it was just the way the author was writing to get situated in the story. But no, the writing was consistently meh throughout, unfortunately.
That said, I really enjoyed the idea of this book. The premise. And some of the things that happened. It was somewhat predictable, but it was predictable in a way that I liked. It was why I picked up the book in the first place -- I specifically wanted to see this relationship form, and I got what I wanted. I also liked that Mitch had a daughter. That's not something I see often in RH or menage stories. It was a nice little different detail.
The characters were okay. Mitch was kind of too perfect, which is weird to say because basically every bad thing you could imagine has happened to her. But it feels like everyone is always complimenting her on something, and it was just too much. Jamie and Kevin were over the top...but again, that's what I signed up for when I picked up this book. I have to admit I rolled my eyes more than once, though.
Overall, She Found Us wasn't all that great. The writing made it difficult to connect with the story and though I liked the premise, the execution of the story as a whole was lacking. I do still plan to read book 2, however, simply due to curiosity. I can't say I'd honestly recommend She Found Us, however.
(Note: I've read book 2, Our Wife, since then and it was a terrible decision. Sigh.)
2 stars - Premise was okay, but the execution lacked.