Violet Grenade by Victoria Scott releases TOMORROW! And we are so excited to have an exclusive short excerpt to share with you guys!! Check it out, and then read more about the book and author below. And be sure to tell us what you think of the excerpt in the comments!
He pulls back his head and meets my stare. His brown eyes blaze with pain so deep I could wade waist-high in it. "I keep my head down so I don't snap. Because I snapped once before, and I did something terrible." He lowers his voice. "I am terrible. And unsafe. So stay the hell away from me."
His face softens like he despises himself and instantly regrets what he said. His arms drop away and he strides toward the house. Sweat forms at my temples and my body quivers. Not because of what happened. But because watching him just now—and hearing the poison that spewed from those lips—
It was like looking in the mirror.
Read more when Violet Grenade releases tomorrow, or check out the first seven chapters on Wattpad!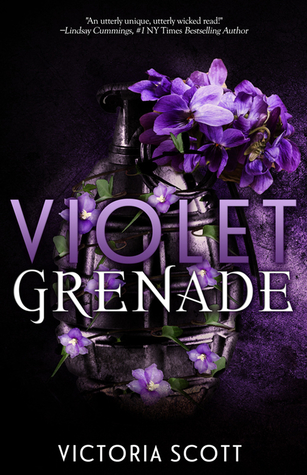 DOMINO: A girl with blue hair and a demon in her mind.
CAIN: A stone giant on the brink of exploding.
MADAM KARINA: A woman who demands obedience.
WILSON: The one who will destroy them all.
When Madam Karina discovers Domino in an alleyway, she offers her a position inside her home for entertainers in secluded West Texas. Left with few alternatives and an agenda of her own, Domino accepts. It isn't long before she is fighting her way up the ranks to gain the madam's approval. But after suffering weeks of bullying and unearthing the madam's secrets, Domino decides to leave. It'll be harder than she thinks, though, because the madam doesn't like to lose inventory. But then, Madam Karina doesn't know about the person living inside Domino's mind. Madam Karina doesn't know about Wilson.
~ About Victoria Scott ~
Victoria Scott is the acclaimed author of eight books for young adults. Her novels are sold in fourteen different countries, and she loves receiving fan mail from across the world. Victoria loves high fashion, big cities, and pink cotton candy. You can find her online at VictoriaScott.com.
Author Links: