This is our version of Waiting on Wednesday but with more cuddles, books we can't wait to cuddle for various reasons.
What are we waiting on this week? THIS!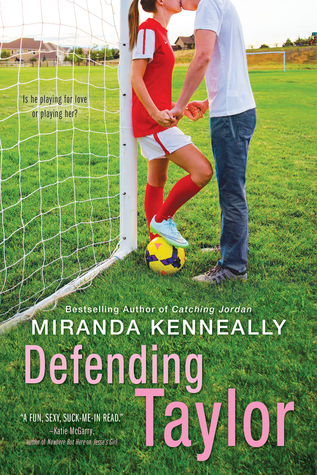 Captain of the soccer team, president of the Debate Club, contender for valedictorian: Taylor's always pushed herself to be perfect. After all, that's what is expected of a senator's daughter. But one impulsive decision—one lie to cover for her boyfriend—and Taylor's kicked out of private school. Everything she's worked so hard for is gone, and now she's starting over at Hundred Oaks High.
Soccer has always been Taylor's escape from the pressures of school and family, but it's hard to fit in and play on a team that used to be her rival. The only person who seems to understand all that she's going through is her older brother's best friend, Ezra. Taylor's had a crush on him for as long as she can remember. But it's hard to trust after having been betrayed. Will Taylor repeat her past mistakes or can she score a fresh start?
Available July 1st, 2016 from Sourcebooks Fire!
Why am I waiting? I LOVE Miranda Kenneally's Hundred Oaks series. I randomly grabbed
Catching Jordan
at B&N back in 2012 and have been all over this series ever since. The fifth book,
Breathe, Annie, Breathe
is one of my favorite contemporary books ever. Now I'm so excited for
Defending Taylor
! It sounds so freaking good. Soccer and a guy named Ezra and oh yeah---it's by Miranda Kenneally. I have this hunch that I'm going to love this book. Cannot wait to get m hands on it!
That's what we're waiting on this week! What do you think? What are you waiting on? Leave us a comment and link us up!