This is a weekly bookish meme hosted by MizB at Should Be Reading.
* Share two (2) "teaser" sentences from somewhere on that page
* BE CAREFUL NOT TO INCLUDE SPOILERS!
(Make sure that what you share doesn't give too much away! You don't want to ruin the book for others!)
* Share the title & author, too, so that other TT participants can add the book to their TBR Lists if they like your teasers!
With any great change, there is always strife, and the Covenant University has become the frontline between pure-bloods who want the Breed Order reinstated and the half-bloods who want the right to control their own destinies.
Fate has other plans.

The violence is escalating and war between the races seems inevitable, and it couldn't come at a worse time. Hyperion may be out of commission, but Josie and Seth know they have only earned a reprieve. Seth must get Josie fully prepared, which means controlling her newfound abilities, and they need to find the other demigods before the Titans do.
But the gods are sensing a greater threat.

Only one thing is more dangerous than a bunch of starved Titans, and that's an out-of-control Apollyon. The aether in Josie is drawing Seth in deeper, and when lust mixes with love and gives way to power, he knows being close to her is not only dangerous to her, but to everyone around them, but letting her go requires a level of selflessness that just isn't Seth's style.

The paths taken in the past are becoming the roads of the future.

Just as chaos breaks out, familiar faces from the past return, complicating the already strained bond between Josie and Seth, and when the danger from the Titans erupts with devastating consequences, the dark allure of power calls to Seth again, but this time Josie might not be able to pull him back.

And when the struggle between power and love becomes the deadliest battleground, there may be no salvation.
Teaser...
Gable suddenly spun on me, twisting so that he could work his arm out of my grasp as he dipped low, muscles tensing. He shot back up, aiming his elbow for my nose.




Awesome defensive move. Boy took some classes. That move would've take me down.




If I weren't the fucking Apollyon... (Page 274)
So love SETH! He can still make me laugh and his cocky attitude was completely in tack!
Did you see the pre-order Giveaway they have going on for this book?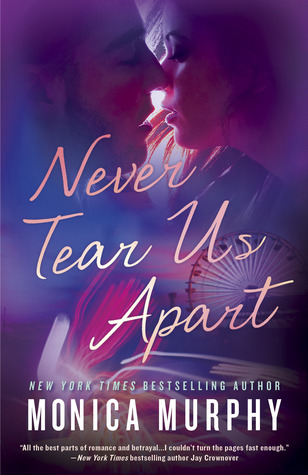 Perfect for readers of Colleen Hoover, Jay Crownover, and K. A. Tucker, the first novel in this darkly sexy contemporary series from bestselling author Monica Murphy kicks off an emotionally powerful two-part tale of forbidden love.
Crazy how eight years can disappear in an instant. One look at Katie Watts, and I'm a fifteen-year-old again—the one who risked everything to save a terrified girl from her twisted kidnapper. She's grown-up now—beautiful, quiet, composed—and telling her story to the world. A story that involves me in more ways than you can imagine. She used to call me her guardian angel. Sure, I risked my life, but she was worth dying for.
I need to make contact with her. Just to ensure that she's safe.
Somehow we reconnect. We become friends . . . but I want more. I want to make her mine. And she wants me too. Does she know who I am? Has she figured me out? Not yet. But she will. In the meantime, I need to make sure that whatever hold that animal had on her is gone.
So, yeah, I'm stealing these moments with her. Savoring them. Knowing, dreading, that she'll soon find out who I really am. And everything will fall apart. All because of that twisted, perverted monster sitting on death row. Her kidnapper. A convicted serial killer.
My father.
Teaser...
The determination that firmed his jaw made him look more manlike. Not so much a kid any longer. "He won't do anything to you. I won't let him."
"You promise?" I asked for too much but I needed to hear the words. Needed the reassurance.
His gaze was solemn. "I promise."
I just started reading this book, and I am already so caught up in these characters and their story. It's a heavy one, but it is GREAT so far. I'm excited to unravel the rest of Katie & Will's story!
Those are our teasers for this week! What do you think? Do you have a teaser to share? Leave us a comment and link us up!