The fabulous girls over at
YA Bound
created this super HOT meme. Here's how it works.
From the book you're currently reading, or one you just finished, tell us what made you SWOON. What got your heart pounding, your skin tingling, and your stomach fluttering.
Shout it out on Twitter with the hashtag #YABound, post it here in the comments, or grab the adorable button above and share it on your blog! I want to know & so do the chicks at YABound!
Kalliope lives with one purpose.

To inspire.

As an immortal muse, she doesn't have any other choice. It's part of how she was made. Musicians, artists, actors—they use her to advance their art, and she uses them to survive. She moves from one artist to the next, never staying long enough to get attached. But all she wants is a different life— a normal one. She's spent thousands of years living lie after lie, and now she's ready for something real.

Sweet, sexy, and steady, Wilder Bell feels more real than anything else in her long existence. And most importantly… he's not an artist. He doesn't want her for her ability. But she can't turn off the way she influences people, not even to save a man she might love. Because in small doses, she can help make something beautiful, but her ability has just as much capacity to destroy as it does to create. The longer she stays, the more obsessed Wilder will become. It's happened before, and it never turns out well for the mortal.

Her presence may inspire genius.

But it breeds madness, too.
Swoon...
"I like the idea that you might like more about me than the way I look."

He kisses me then, and even though my nose and my fingers and my limbs are cold, heat flashes through me, quick and potent. I release his hand to wrap mine around his neck and pull him closer. He's tall enough that I have to be on my tiptoes and he has to bend, but the need to be close to him is so strong that I don't even notice the burn in my calves. His tongue sweeps against mine, hot and just shy of frenzied.

He breaks the kiss, and I desperately try to follow, but his cheek presses against mine. Against my ear, he rasps, "I do like the way you look. I like it way too much considering we're in public. But I also like the easy way you smile. The way you listen. I like that you're a mystery I can't wait to unravel. I like how good you are with my sister, and that you're the kind of girl who doesn't blink an eye when I bring her somewhere like this for a first date or ask her to dance in a cold parking lot. I like the sound of your voice and your dedication to chocolate and your skill in a water fight." (Kindle location 2174)
Yeah, I so love Wild! So swoon worthy. What do you think of Wilder Bell?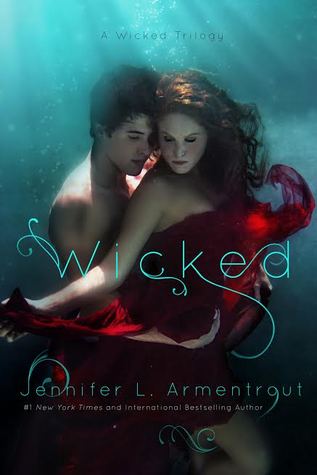 About WICKED:
Things are about to get
Wicked
in New Orleans.
Twenty-two year old Ivy Morgan isn't your average college student. She, and others like her, know humans aren't the only thing trolling the French Quarter for fun… and for food. Her duty to the Order is her life. After all, four years ago, she lost everything at the hands of the creatures she'd sworn to hunt, tearing her world and her heart apart.
Ren Owens is the last person Ivy expected to enter her rigidly controlled life. He's six feet and three inches of temptation and swoon-inducing charm. With forest-green eyes and a smile that's surely left a stream of broken hearts in its wake, he has an uncanny, almost unnatural ability to make her yearn for everything he has to offer. But letting him in is as dangerous as hunting the cold-blooded killers stalking the streets. Losing the boy she loved once before had nearly destroyed her, but the sparking tension that grows between them becomes impossible for Ivy to deny. Deep down, she wants… she needs more than what her duty demands of her, what her past has shaped for her.
But as Ivy grows closer to Ren, she realizes she's not the only one carrying secrets that could shatter the frail bond between them. There's something he's not telling her, and one thing is for certain. She's no longer sure what is more dangerous to her—the ancient beings threatening to take over the town or the man demanding to lay claim to her heart and her soul.
Swoon...
Ren cupped my cheek, his hand gentle as he tilted my head back, and before my heart could take another beat, he kissed me.
It was no slow or seductive kiss.
He claimed my lips as if he were laying claim to my body, to my soul, and every part of me. His mouth was demanding as he tilted his head, his lips moving over mine, his tongue tracing the seam of my lips, willing them to part, and I...I opened for him. My lips parted, and he made this sound, this deep animalistic groan that sent flames lapping over my skin. The kiss deepened, and his tongue slid over mine, along the roof of my mouth. He took me with his mouth, tasted me and claimed me.
When he lifted his head, he was breathing deeply as he stared into my eyes. They swirled in a multitude of greens as he dragged his thumb along my lower lip.
Oh dear goodness. Ren. I am absolutely, 100% head over heels for this guy. What do you think of him?
Those are our swoons for this week! What do you think? Do you have a swoon to share? Leave us a comment!