This is my version of Waiting on Wednesday but with more cuddles, books I can't wait to cuddle for various reasons.
What are we waiting on this week? THIS!
"She was beauty for my ashes and I was hope for her heartache."—Cole Danzer.
I don't know what makes a great love story. Is it that instant attraction when boy meets girl? The passionate kisses and the fairy-tale ending? Or is it a lifetime of tragedy, paid in advance, for a few stolen moments of pure bliss? The pain and the suffering that, in the end, you can say are worth it for having found the missing piece of your soul?
The answer is: I don't know. I don't know what makes a great love story. I only know what makes my love story. I only know that finding Cole when I did, when my world had dissolved into nothing, when I couldn't separate nightmare from reality, was the only thing that saved me. He was more broken than I was, but somehow we took each other's shattered pieces and made a whole. Without him, I wouldn't have made it. If that is what makes a great love story, if that is what makes an epic romance, then mine…ours is the greatest of them all.
Why am I waiting? Because I love everything M. Leighton writes AND that cover! Oh my, that cover has me for sure.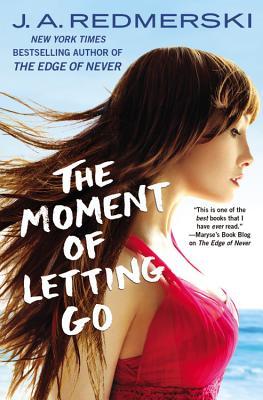 You can follow the rules or you can follow your heart...

THE MOMENT OF LETTING GO
Sienna Murphy never does anything without a plan. And so far her plans have been working. Right after college, she got a prestigious job and gained the stability she'd always craved-until work takes her to the sun-drenched shores of Oahu and places her in the path of sexy surfer Luke Everett. For the first time, she lets her heart take control. Drawn to his carefree charm, she makes a spontaneous and very un-Sienna-like decision to drop everything and stay in Hawaii for two more weeks.
Luke lives fast and wild. When he meets Sienna, he's convinced that some no-strings-attached fun is just what she needs. As their nights quickly turn from playful to passionate, Luke can't deny the deep connection he feels. But there's a reason Luke doesn't do long-term. He can't promise Sienna forever, when the enormity of his past has shown him just how fragile the future can be . . .
Why am I waiting? I LOVED The Edge of Never, and I am very interested in reading more by J.A. Redmerski. I'm sure this one will tear me apart the same way The Edge of Never did, but ohmygoodness it will be so worth it.
What do you think? What are you waiting for? Leave us a comment.