Join the Book Boyfriend meme
Pick your book boyfriend for the week
Current read or not
Tease us with something about your boy
Don't spoil the book
Link up with us
Visit the other book boyfriend posts
So my book boyfriend for the week is...
Greyson King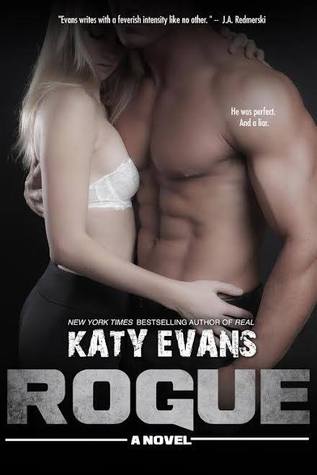 The fourth story in the new adult series that began with the New York Times bestseller Real, featuring Brooke's best friend, Melanie, and the ROGUE she can't resist.
Greyson King...
My boyfriend. My friend. My protector. He's the reason I wake up every morning with a smile on my face, and the reason I fall asleep limp, worn out, and aching for his warm arms around me. When we make love, he says my name like it means something. Like I mean something.
He
Lied.
His name is Greyson King, but his alias is Zero.
There's zero trace of him, he has zero past, and now I know that with him, I will have zero future.
He may leave no trace of him anywhere, but his imprint is in me, in my very soul--and I hate that a mere look at him commands the beat of my heart. The temperature of my body.
I've looked for love my entire life. I've waited for the butterflies, the rainbows...
Instead I'm in a free fall of emotions and there's no one to catch me but the one man I should be running away from. The one man I thought was my prince charming.
Except this prince charming went rogue.
Greyson will stop at nothing to make me be with him. He'll let no one stand in our way, will allow no one to threaten me, and maybe this is what scares me most of all...
What will my rogue do to keep me?
Now for the big question: WHY is Greyson my book boyfriend?
And to that question, I have many, many answers. He's strong, he's fierce, he's attractive. He's tough, and quite rough around the edges.
But he can also be the kindest, most gentle person. He's loyal. And he's sweet. He's not perfect, but who needs perfection when you have this rogue?
I can list very many things with very many examples on why I heart Grey. On why I prefer this rogue over any other.
He's so intense...
It feels like, for several minutes, we stay as we are, him with the merest curve of his lips while I'm smiling completely, both of us looking into each other's eyes. I have no idea what he sees in my eyes that holds him so intently engrossed, but I can't look away from his gaze either. It's closed and mysterious while, at the same time, I can see a fiery rawness in his gaze, as if he desperately wants something from me.
Not something; all of me.
I swear, the LOOKS he gives--they get me every time...
"Do you see my dress?" I whisper to him.
His voice is gruff with tiredness, his eyes hooded as he pulls open the bedsheet for me.
"Yeah. I set it aside to avoid the clutter. Come here and get some sleep."
Oh god, I really didn't want to leave, but I don't want him to know how much I want to sleep here tonight either.
So I stand there, naked and unsure for a moment.
"I don't have to stay," I say, but there's this way he has of looking at you--as if he's commanding you. It's very odd. I've never encountered anyone who could have such control with a single look.
~~~
I sniffle and wipe my tears, then meet his gaze almost imploringly, my tummy aching when he returns my stare with one that tells me so much more than simply I'm going to do you. There's concern in his gaze, but there's fire, simmering in there, promising to burn me in the most delicious way. He's here because he wants me. He craves me and I crave him back. I crave the man I met that night in the rain, the one who wouldn't let me get wet and quietly asked about me as he kissed me all night. The one who came back to see me and asked for another chance. His magnetism just pulls at me, the pull irresistible. Unprecedented.
And being inside his head and seeing how he thinks of Melanie? My heart...
"So you are mad. Princess, I didn't want to leave you, not like that." I drop my voice as a shit ton of regret tightens my chest, and I stare out the dingy motel window and think of my new Seattle apartment. I want it bad. I want my bed with the thousand-dollar sheets and the million-dollar girl cuddled right beside me. "Baby, talk," I hear myself plead.
"What for?"
"Just talk." Exhaling, I press the receiver closer and cling to her voice. All the sunshine in it. The way it squeezes my heart, my gut, and my balls, all in one fell swoop. The way I need it to remind myself that what I did today was just a job. A role. An act. Not all of me. She's the only one who gets to see all of me.
I LOVE GREYSON KING. For all the reasons I listed here and more. I finished the book about a week ago and I miss him already. Ahhhh, Grey. Grey Grey Grey.
Review...
I've put off reviewing this book since I finished it. Pretty much what happened was I closed the book, sat there, and was like "WHAT ARE WORDS?" I've loved Katy Evans' REAL series for a while now. Brooke and Remy pulled my heart all over the place and made me feel all kinds of happy. But Greyson and his princess... This on was above and beyond to me. One of my absolute favorite books, and definitely my favorite book in the series.
Melanie was the kind of character that believed in love. She believed in finding the right person and living happily ever after--like she'd seen her best friend do with Mr. Remington Tate. And she wants that for herself. I feel like I really understood Mel, and that led to me relating to her beyond how I did for Brooke or how I would for Pandora in Ripped (which I already read and reviewed--because I was stalling on this review, ha). I understood where she was coming from, and I loved how optimistic she was in the grand scheme of things. She tried and she tried hard to get what she wanted. Until finally, Greyson King popped into her life...
Greyson is not the commitment type of guy. He's quiet and lethal. He doesn't trust anyone, and he isn't emotional. He's just does what he has to do. Then he talks to Melanie. And spends time with her. And goodness, this guy. He claimed to be the worst thing for her, but he was so...just so freaking GOOD. In the ways that truly counted, Greyson King was the very best, and he still is and ohsweetgoodness I love him. He's this stoic guy, but then for her he can be sweet. He can interact with parents and friends. He can spend a whole night asking her about herself because he really wants to know. Page by page in this book, I fell for Greyson and I fell hard.
So obviously I was head over heels for the romance. My favorite thing about this was the dynamic. I LOVE when there's a guy--like Greyson--who's quiet and strong and fierce and he ends up with a girl--like Melanie--who is perky and cheerful. Together, Greyson and Melanie were the closest thing to perfection. She's the light to his dark, he's the hard to her soft. The fit as a couple so well. Grey & Mel are definitely one of my top ten favorite couples. I love them together, and I miss them!
The writing in this book was passionate, as Katy Evans always writes. It was addicting and pulled me in so quick. The writing pulled me in, and then the characters and their story held me there until I reached the end and started wishing for more. The story is written in dual POV, which I am a fan of, especially when it means getting to spend time in the mind of Greyson King. As a whole, I was completely satisfied with the events of this novel. There was only one thing that might have made me twitchy, but that didn't end up really being a problem, so my enjoyment wasn't hindered in the least. From beginning to end, this book made me feel all the feels and ended with my heart all aflutter.
Overall, Rogue is my favorite book in the REAL series. The story of Greyson and his princess was one that tugged at my heart and ended by making me all kinds of happy. Rogue is yet another beautifully written masterpiece by Katy Evans, and I can't wait to get my hands on another!
5 swoon-worthy stars - I LOVED THIS BOOK. My favorite book in one of my favorite series!
Have a book boyfriend this week? Link up with us...