This is my version of Waiting on Wednesday but with more cuddles, books I can't wait to cuddle for various reasons.
What are we waiting on this week? THIS!
Available 1/6/15
When everything starts spinning out of control . . .

Three years into college, Tressa Oliver's life is a nonstop party. She's skating by in her classes, and there's no shortage of drinking, dancing, and general hell-raising. The only aspect that hasn't been much fun: She can't shake the toxic jerks that always seem to gravitate toward her.

It will take someone totally wrong . . .

Trent Lawson is the classic anti-bad boy: smart, boring, and way too serious. To a wild girl like Tressa, there's no way in hell they're compatible—especially since Trent seems to see straight through her defenses.

To set her right.

When a college prank goes terribly wrong, Tressa starts to suspect that her partying ways are leading nowhere fast. Now she has to turn to the last person she ever thought she'd ask for help—and quickly discovers that there's more to Trent than meets the eye . . .
Why am I waiting? I love Tiffany books and this series in particular has been a favorite. Reading it soon.
Available 7/1/15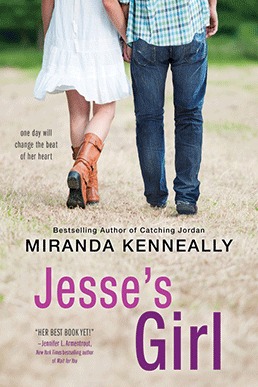 Practice Makes Perfect.
Everyone at Hundred Oaks High knows that career mentoring day is a joke. So when Maya Henry said she wanted to be a rock star, she never imagined she'd get to shadow *the* Jesse Scott, Nashville's teen idol.
But spending the day with Jesse is far from a dream come true. He's as gorgeous as his music, but seeing all that he's accomplished is just a reminder of everything Maya's lost: her trust, her boyfriend, their band, and any chance to play the music she craves. Not to mention that Jesse's pushy and opinionated. He made it on his own, and he thinks Maya's playing back up to other people's dreams. Does she have what it takes to follow her heart—and go solo?

Why am I waiting? I've loved Miranda Kenneally's books since Catching Jordan. Breathe, Annie, Breathe was one of my favorite books of 2014, and I even added it to my all-time favorites shelf. I am so excited to read this next book! Seriously. I cannot wait. CANNOT. WAIT. *flails*


That's what we're waiting on this week! What do you think? What are you waiting on? Leave us a comment!