This is my version of Waiting on Wednesday but with more cuddles, books I can't wait to cuddle for various reasons.
What are we waiting on this week? THIS!
From #1 New York Times bestselling author Colleen Hoover, a new novel about risking everything for love—and finding your heart somewhere between the truth and lies.
Auburn Reed has her entire life mapped out. Her goals are in sight and there's no room for mistakes. But when she walks into a Dallas art studio in search of a job, she doesn't expect to find a deep attraction to the enigmatic artist who works there, Owen Gentry.
For once, Auburn takes a risk and puts her heart in control, only to discover Owen is keeping major secrets from coming out. The magnitude of his past threatens to destroy everything important to Auburn, and the only way to get her life back on track is to cut Owen out of it.
The last thing Owen wants is to lose Auburn, but he can't seem to convince her that truth is sometimes as subjective as art. All he would have to do to save their relationship is confess. But in this case, the confession could be much more destructive than the actual sin…
Available March 10, 2015 from Atria Books
Why am I waiting? Hey, if Colleen Hoover writes it, then I'm down to read it. That simple.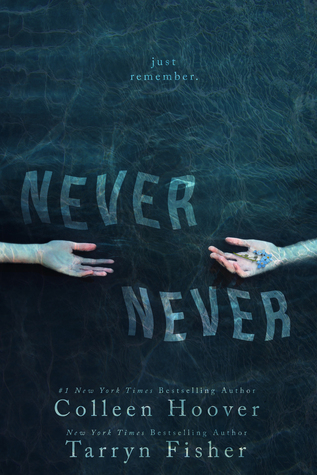 Best friends since they could walk. In love by the age of fourteen. Dating for over four years.
She'll do everything she can to never forget.
He'll do everything he can to never remember.
Too bad it's not up to them.
Coming January, 2015.
Why am I waiting? Colleen Hoover. And Tarryn Fisher. A book by both of these authors. A book that sounds extremely interesting by both of these authors. THAT is why I can't wait to read this. I'm always up for a book by Colleen (love her!), and I've been itching to read something by Tarryn. Why not start with this? (Or with Mud Vein if I can't wait until January 11th--we'll see!) Either way, one thing is certain: I AM EXCITED!
That's what we're waiting on this week! What do you think? What are you waiting on? Leave us a comment!