This is our version of Waiting on Wednesday but with more cuddles, books we can't wait to cuddle for various reasons.
What are we waiting on this week? THIS!
Is it the perfect escape?
Whitaker Island is more than a getaway. For Tessa Jenkins, the remote strip of land in Washington state is a sanctuary. Fleeing from a shattering scandal, she has a new name, a chance at a new beginning, and a breathtaking new view: Hansen Rye. It's hard not to crush on Whitaker's hottest handyman. At six-foot-three and all kinds of fine, he's also intensely private—and the attraction between them soon simmers dangerously out of control.
…or a private trap for two lovers?
After a devastating family tragedy, Hansen finds the pebbled shores of the faraway island to be an ideal refuge. Letting down his guard for the sexy, impulsive Tessa is an unexpected pleasure. But there's another newcomer to Whitaker. He's no stranger to Hansen. And when he's murdered, the crime casts a threatening shadow. As suspicion falls on Hansen, all his secrets are about to collide with Tessa's. Now the pasts they were determined to outrun are catching up to them. So is a killer who's putting their love—and their lives—on the line.
I do love the sound of this one! What about you?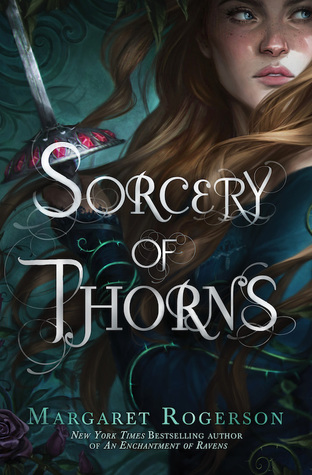 All sorcerers are evil. Elisabeth has known that as long as she has known anything. Raised as a foundling in one of Austermeer's Great Libraries, Elisabeth has grown up among the tools of sorcery—magical grimoires that whisper on shelves and rattle beneath iron chains. If provoked, they transform into grotesque monsters of ink and leather. She hopes to become a warden, charged with protecting the kingdom from their power.
Then an act of sabotage releases the library's most dangerous grimoire. Elisabeth's desperate intervention implicates her in the crime, and she is torn from her home to face justice in the capital. With no one to turn to but her sworn enemy, the sorcerer Nathaniel Thorn, and his mysterious demonic servant, she finds herself entangled in a centuries-old conspiracy. Not only could the Great Libraries go up in flames, but the world along with them.
As her alliance with Nathaniel grows stronger, Elisabeth starts to question everything she's been taught—about sorcerers, about the libraries she loves, even about herself. For Elisabeth has a power she has never guessed, and a future she could never have imagined.
Releases June 4th!
Why am I waiting? Everything about this one just demands my attention. I love the cover. The synopsis sounds so cool and like something I'll be able to really get into. I'm excited to get this book in my hands!
That's what we're waiting on this week! What do you think? What are you waiting on? Leave us a comment and link us up!