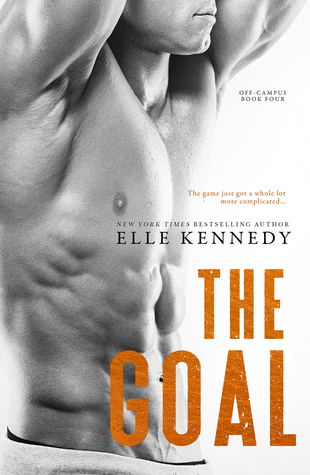 Source: Purchased.
She's good at achieving her goals…
College senior Sabrina James has her whole future planned out: graduate from college, kick butt in law school, and land a high-paying job at a cutthroat firm. Her path to escaping her shameful past certainly doesn't include a gorgeous hockey player who believes in love at first sight. One night of sizzling heat and surprising tenderness is all she's willing to give John Tucker, but sometimes, one night is all it takes for your entire life to change.
But the game just got a whole lot more complicated...
Tucker believes being a team player is as important as being the star. On the ice, he's fine staying out of the spotlight, but when it comes to becoming a daddy at the age of twenty-two, he refuses to be a bench warmer. It doesn't hurt that the soon-to-be mother of his child is beautiful, whip-smart, and keeps him on his toes. The problem is, Sabrina's heart is locked up tight, and the fiery brunette is too stubborn to accept his help. If he wants a life with the woman of his dreams, he'll have to convince her that some goals can only be made with an assist.
With the way The Score ended, I was VERY EXCITED to hop on into The Goal. I knew for sure this one was going to feature tropes I liked so, my hopes were high. And sure enough The Goal ended up being my second favorite book in the Off-Campus series! (With The Deal being my favorite, The Score third, and The Mistake as fourth favorite.)
First of all, I have all the respect and adoration in the world for Sabrina. She's stubborn and blunt and confident and determined and goodness gracious I was honestly such a huge fan. And then there's Tucker who I am kind of head over heels for. He's the quiet one of the bunch and we finally get to know him better. He's just so...solid. Steady. And his patience with Sabrina? Wow. I love him.
The romance was drawn out so well. From Sabrina and Tucker's attraction, to acting on it, to sexy times, to...more. Their dynamic was perfect. They had the right amount of push and pull to where I didn't get impatient or feel like they were never going to work out. They had a slower emotional build and I was 100% here for it.
As for the plot, I really enjoyed it. Like I said above, The Goal featured tropes I personally enjoy reading so that was nice. The only hitch in everything was the fact that the ending to The Score gives away the biggest *thing* in The Goal so I went into this one knowing it was going to happen, which means I was waiting for it. So while I was very much loving Sabrina and Tucker getting together and all that beautiful stuff, in the back of my mind I was waiting and waiting for the shoe to drop. It says a lot for how good this book is, however, that I went through that and still super enjoyed reading this book.
Overall, The Goal was so good, and is now solidly my second favorite installment in the Off-Campus series (after The Deal, of course). I loved Sabrina and Tucker and their story. It was an easy one to devour in less than a day, and it made me happy.
4 stars - Really enjoyed The Goal--it made me happy :)