This is a weekly bookish meme hosted by MizB at
Should Be Reading
.
* Share two (2) "teaser" sentences from somewhere on that page
* BE CAREFUL NOT TO INCLUDE SPOILERS!
(Make sure that what you share doesn't give too much away! You don't want to ruin the book for others!)
* Share the title & author, too, so that other TT participants can add the book to their TBR Lists if they like your teasers!
There's more than one way to win in the debut of the First to Fight series…

Athletic trainer Marianne Cook is ready to do whatever it takes to turn the men of the Marine Corps boxing team into fighting machines. After all, her ultimate goal is to land a job training professional athletes. But when she notices a certain hard-bodied marine trying to hide an injury, Marianne realizes that she'll have to use covert tactics to get him talking.

First Lieutenant Brad Costa has waited years for the chance to fight for a spot on the Marine Corps boxing team, knowing he has to push twice as hard to get half as far as his younger counterparts. Brad tries to downplay his injuries to the attractive trainer who has his dreams in her hands, but Marianne isn't buying it. Maybe it's time to deploy some targeted flattery.

As Brad and Marianne's attraction turns red-hot, there's more than one person having a hard time keeping their eyes on the prize…
Teaser...
The instant his lips touched hers, Marianne's arms wound around his neck and pulled him closer. He groped with one hand to find the doorway to keep both their balances, then used the other to palm her lower back and pull her body into his. (Kindle location 869)
Enjoying this one. Review coming soon. Book is available 4/7.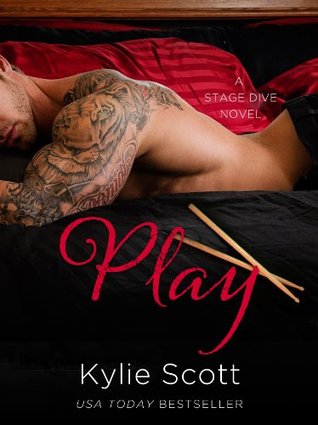 Kylie Scott returns with the highly anticipated follow-up to international bestseller Lick.
Mal Ericson, drummer for the world famous rock band Stage Dive, needs to clean up his image fast--at least for a little while. Having a good girl on his arm should do the job just fine. Mal doesn't plan on this temporary fix becoming permanent, but he didn't count on finding the one right girl.
Anne Rollins never thought she'd ever meet the rock god who plastered her teenage bedroom walls--especially not under these circumstances. Anne has money problems. Big ones. But being paid to play the pretend girlfriend to a wild life-of-the-party drummer couldn't end well. No matter how hot he is. Or could it?
Teaser...
"That was our first fight," he mumbled.
"Yeah. I won."
"Did not."
"Did too."
"Pfft. Okay." His arms tightened around me. "I'll give you that one. But only because you're being so childish about it."
"Thanks."
He breathed out hard. "I don't want to fight again."
So this series is my new addiction, and I particularly adore Play. Mal and Anne are the sweetest and I seriously heart them. Especially Mal's hilariousness. I have such happy feelings pertaining to this book, y'all--to this SERIES. So. Flipping. Great. *flails*
Those are our teasers for this week! What do you think? Do you have a teaser to share? Leave us a comment!