This is our version of Waiting on Wednesday but with more cuddles, books we can't wait to cuddle for various reasons.
What are we waiting on this week? THIS!
Dr. Katherine "Kat" Arnolds left Oregon and never looked back at the town that failed her as a child. But when a new patient from Independence Falls joins her clinical trial, she returns determined to show everyone in her hometown how she has thrived—including her high school crush.
Brody Summers saves people. For years, he looked out for his younger siblings and ran the family business. Now he works search and rescue. After a failed mission, Brody plans to take an evening off. When a blonde city girl knocks him off his feet, he refuses to walk away from desire. But it doesn't take long for Brody to realize the past is returning to haunt him—and it goes back farther than one wild night.
The last thing Kat wants is a reason to extend her stay in Independence Falls. But she can't escape the memory of Brody's wicked touch. As their passion heats up, Brody wonders if he's falling for the one woman who doesn't need rescuing.
Available 4/14 from Avon Impulse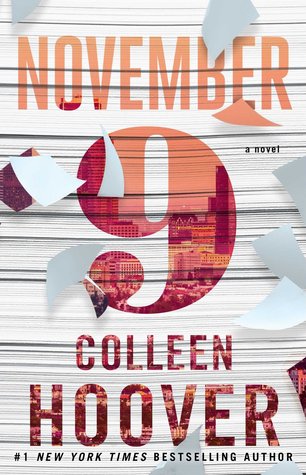 This is a love story between a guy (me) and a girl (Fallon).
I think.
Can it even be considered a love story if it doesn't end with love?
Mysteries end when the mystery is solved.
Biographies end when the life story has been told.
Love stories should end with love, right?
Maybe I'm wrong, then. Maybe this isn't a love story. If you ask me…I'd say this might even be considered a tragedy.
Whatever it is—however it ends—I promised I would tell it. So without further ado.
Once upon a time…I met a girl.
The
girl.
Releases November 10 (hehe) from Atria Books
Why am I waiting? Well, first of all. Colleen Hoover is an auto-buy author for me. I don't need to know what a book is about (and often don't--what's Ugly Love about again? Or Confess, even?) to buy it if Colleen Hoover's name is on the front. I had this book picked for my WOW since the cover reveal and JUST read the blurb just now as I was adding it here. Which brings me to second of all--THAT. BLURB. I want this story in my hands. Now. Right now. Ahhh. And third of all...Colleen Hoover, y'all. It's gonna be fantastic, of that I have no doubt. Now I just have to, like...wait. Sigh.
That's what we're waiting on this week! What do you think? What are you waiting on? Leave us a comment!