From Berkley...
As the oldest of the ten Abbott siblings, Hunter prides himself on his ability to solve other people's problems, but now he has a problem of his own—how to convince the woman of his dreams that his love is for keeps.

As the chief financial officer, Hunter Abbott manages the family's various business interests while "fixing" things for the people he loves. But the one thing he can't fix is his undeniable attraction to Megan Kane. Instead, Hunter is prepared to do whatever it takes to show Megan that he's the man for her.

Megan's sister rocks her with the news that she and her husband are moving overseas, leaving Megan truly alone. With her sister—and her job at the diner—going away, Megan finds herself leaning on the sexy, button-down accountant who isn't afraid to lay it all on the line for her. But Megan has watched too many people she loves leave her. Can she risk her heart on Hunter?
From the bestselling authors of Last Hit comes the next in the steamy series that explores the exquisite power of our darkest passions . . .Regan :
I never really knew what misery was until the day I was kidnapped and sold for being in the wrong place at the wrong time. Two months later, I'm at a brothel in Rio when I meet Daniel Hays. He says he's here to save me, but can I trust him? All I know of him are his sarcastic retorts and his tendency to solve every dispute with his gun. He's also the only safe thing in my world, and I know it's wrong to fall in love with him, but I can't seem to help myself. He says he'll protect me until his last breath, but I don't know if I should believe him or even if I can.
Daniel:
For the last eighteen months, one goal has dictated every action I've taken. I've left the Army, turned paid hit man, and befriended criminals all across the globe to find my kidnapped sister. In every brothel I raid and every human trafficking truck I stop, I hope the next face I find is my sister's. In a hidden brothel in Rio, I find Regan Porter, bruised but not broken, and still sane despite her weeks in captivity. I should leave her behind or send her home, because the last thing either of us needs right now is to get involved. But with every passing minute, I find I'm less able to let her go.
From Signet...
The second novel featuring small New England town of Harvest Cove, where the residents know that Emma Henry likes things nice and orderly—but everyone has to let loose sometimes…

Event planner Emma Henry is used to focusing all her attention on reaching her goals and letting romance fall by the wayside. But when her sister Sam's bachelorette party prompts the most tightly-wound Henry to let her hair down, Emma's night ends with the entire town linking her to a man who could lay waste to anyone's best-laid plans.

Army vet Seth Andersen thought that joining the police department in sleepy Harvest Cove would offer a quiet, normal life. But when he finds himself responsible for uptight Emma Henry at the end of her wildest night ever, his world turns unexpectedly complicated—and he's surprised to discover he doesn't mind at all…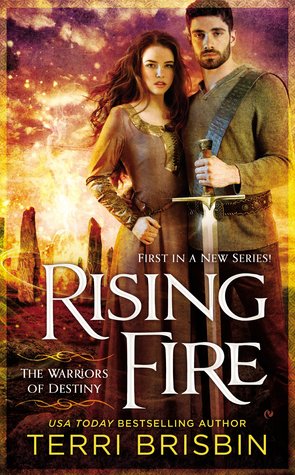 What if the standing stones and stone circles across the old Celtic world had a secret origin and use? What if some opened into another world? What if the goddess of fire was trapped beneath one?
Lovely and innocent, Brienne of Yester has always been able to manipulate fire, but when her powers suddenly surge, the simple life she once knew explodes.
Handsome, fearless, and commanding, William de Brus has been summoned by the king to investigate a nobleman rumored to have powers linked to the fabled fire goddess. When he chances upon Brienne, his desire for her is immediate. But as his mystical quest unfolds, William realizes that she is at the center of it — for Brienne possesses the very power he has been sent to vanquish....
As their attraction deepens, William attempts to free Brienne from the dark force beginning to control her — even when his duty demands that he treat her as an enemy. With emotions flaring, fire rising, and evil threatening at every turn, can the two lovers survive the coming battle and save all of humanity?
They are the Sentinels. Three races descended from ancient guardians of mankind, each possessing unique abilities in their battle to protect humanity against their eternal foes: the Synestryn. Now a warrior must protect his onetime enemy—without succumbing to his darkest desires.
Lyka Phelan is a Slayer, sent to live among her enemy to guarantee lasting peace with the Theronai. Yet she has a secret—and it could make her a slave to their power. But when a pack of Synestryn destroys her home and captures her packmates, Lyka realizes her freedom is a small price to pay for the safety of her people. So she strikes a bargain with the leader of the Theronai—one that reveals her true identity and binds her to him forever.
Joseph thought he knew better than to tangle with the beautiful, hot-blooded Lyka. One misstep could send their races straight back to war. But now he has no choice other than to help her. Forced to protect her with his life, Joseph finds himself increasingly drawn to Lyka. As they risk everything in their fight against the demons, he realizes he must convince her to surrender to him completely—otherwise she will never truly be his.
From NAL Trade...
You don't know when…
You don't get to choose if…
When it's time to join…you'll know.

You might think you want to be a member—but trust me this is one club you don't want to join. It's not a place where people go to live out their deepest, darkest sexual desires—there are no handcuffs or blindfolds.

The 27 Club only admits those who die young and tragically. My brother was recently bestowed membership and joined many of our ancestors before him. I know I'm next. This is my destiny, and I was ready to yield.

But then I met Nate. He awakened a sensuality in me that had never been explored, never satisfied. I knew then I could no longer accept my destiny. Nate's presence controls me. I'm overwhelmed by his touch, his words; my every thought is consumed by desire. I believe he was brought into my life for a reason.

Nate doesn't believe in destiny.

But I do.

And if there's a way to cheat it—I must.