Click on the banner to see the full tour schedule!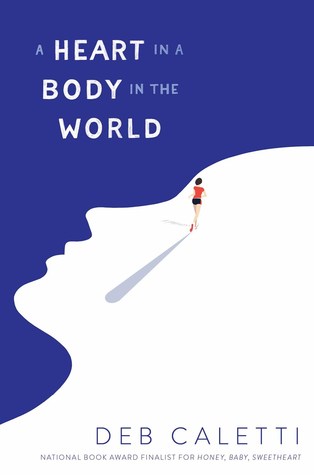 Source: Review copy provided by the publisher in exchange for a fair and honest review.
A Heart in a Body in the World by Deb Caletti
When everything has been taken from you, what else is there to do but run?
So that's what Annabelle does—she runs from Seattle to Washington, DC, through mountain passes and suburban landscapes, from long lonely roads to college towns. She's not ready to think about the why yet, just the how—muscles burning, heart pumping, feet pounding the earth. But no matter how hard she tries, she can't outrun the tragedy from the past year, or the person—The Taker—that haunts her.
Followed by Grandpa Ed in his RV and backed by her brother and two friends (her self-appointed publicity team), Annabelle becomes a reluctant activist as people connect her journey to the trauma from her past. Her cross-country run gains media attention and she is cheered on as she crosses state borders, and is even thrown a block party and given gifts. The support would be nice, if Annabelle could escape the guilt and the shame from what happened back home. They say it isn't her fault, but she can't feel the truth of that.
Through welcome and unwelcome distractions, she just keeps running, to the destination that awaits her. There, she'll finally face what lies behind her—the miles and love and loss…and what is to come.
I've loved Deb Caletti's books for a while now--since before I started blogging for sure. So now I eagerly await her releases so I can read them and talk about them and love them. And A Heart in a Body in the World is definitely one to love.
I'm hesitant to say too much specifically because going into this one with nothing more than the blurb has a serious effect. The story builds and sneaks up on you and punches you in the feels in the very best way.
So I'm going to make a short list of things that make A Heart in a Body in the World a wonderful novel:
- The characters. Annabelle, whom I am in awe of and also feel for. Her family. Her friends.
- The story. Poignant and timely and so very striking.
- The writing. Deb Caletti crafted this novel beautifully. The entire book has an atmosphere abut it that builds and builds and them BAM I was crying and I loved this book and wow.
- How this book made me feel. Obviously this point is subjective. But while this book was making my eyes sweat, it was also twisting my heart in ways that weren't entirely hurtful. You know, thanks to the beauty of this story.
Overall, A Heart in a Body in the World is a striking, poignant novel that is not to be missed. I loved this one by Deb Caletti and I absolutely cannot wait to see what she has coming next.
4.5 stars - A beautifully written, striking novel that is not to be missed.
Deb Caletti is an award-winning author and National Book Award finalist. Her many books for young adults include The Nature of Jade, Stay, The Last Forever, Essential Maps for the Lost, and Honey, Baby Sweetheart, winner of the Washington State Book award, the PNBA Best Book Award, and a finalist for the California Young Reader Medal and the PEN USA Award. Her books for adults include He's Gone, The Secrets She Keeps, and her most recent release, What's Become of Her.
Deb grew up in the San Francisco Bay area, and now lives with her family in Seattle.
Three (3) winners will receive A Heart in a Body in the World! (US only)
This is a tour-wide giveaway. StuckInBooks is not responsible for selecting winners or sending out prizes.