This is our version of Waiting on Wednesday but with more cuddles, books we can't wait to cuddle for various reasons.
What are we waiting on this week? THIS!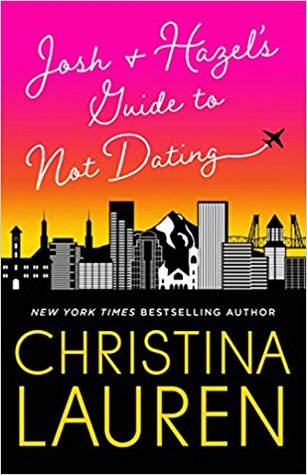 Most men can't handle Hazel. With the energy of a toddler and the mouth of a sailor, they're often too timid to recognize her heart of gold. New York Times and #1 international bestselling author Christina Lauren (Roomies, Beautiful Bastard) tells the story of two people who are definitely not dating, no matter how often they end up in bed together.
Hazel Camille Bradford knows she's a lot to take—and frankly, most men aren't up to the challenge. If her army of pets and thrill for the absurd don't send them running, her lack of filter means she'll say exactly the wrong thing in a delicate moment. Their loss. She's a good soul in search of honest fun.
Josh Im has known Hazel since college, where her zany playfulness proved completely incompatible with his mellow restraint. From the first night they met—when she gracelessly threw up on his shoes—to when she sent him an unintelligible email while in a post-surgical haze, Josh has always thought of Hazel more as a spectacle than a peer. But now, ten years later, after a cheating girlfriend has turned his life upside down, going out with Hazel is a breath of fresh air.
Not that Josh and Hazel date. At least, not each other. Because setting each other up on progressively terrible double blind dates means there's nothing between them...right?
Releases September 4th, 2018!
Why am I waiting? This sounds like it's going to be fun, and maybe a bit cute? Plus, it's about time I read some Christina Lauren!


That's what we're waiting on this week! What do you think? What are you waiting on? Leave us a comment and link us up!