This is our version of Waiting on Wednesday but with more cuddles, books we can't wait to cuddle for various reasons.
What are we waiting on this week? THIS!
The first novel in a sexy new series featuring the hockey players of the Brooklyn Bruisers and the women who win their hearts—from the USA Today bestselling author of the Ivy Years series.
In high school they were the perfect couple—until the day Georgia left Leo in the cold...
Hockey player Leo Trevi has spent the last six years trying to do two things: get over the girl who broke his heart, and succeed in the NHL. But on the first day he's called up to the newly franchised Brooklyn Bruisers, Leo gets checked on both sides, first by the team's coach—who has a long simmering grudge, and then by the Bruisers' sexy, icy publicist—his former girlfriend Georgia Worthington.
Saying goodbye to Leo was one of the hardest things Georgia ever had to do—and saying hello again isn't much easier. Georgia is determined to keep their relationship strictly professional, but when a press conference microphone catches Leo declaring his feelings for her, things get really personal, really fast....
Available 9/6/2016 from Penguin
Why am I waiting? Let's see....hockey? Check. Second chance story? Check. Guy who still loves the girl? Check. Yep, I'm in.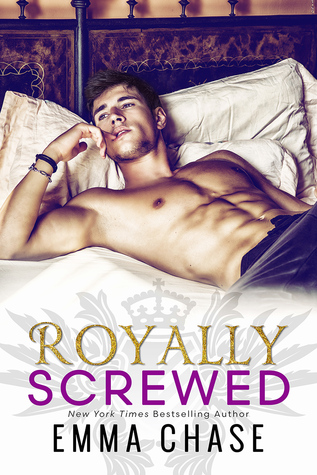 Emma Chase, New York Times bestselling author of the Tangled Series & Legal Briefs Series, returns with the first of three sizzling standalone books about a family of racy, irresistible Royals.
Nicholas Arthur Frederick Edward Pembrook, Crowned Prince of Wessco, aka "His Royal Hotness", is wickedly charming, devastatingly handsome, and unabashedly arrogant—hard not to be when people are constantly bowing down to you.
Then, one snowy night in Manhattan, the prince meets a dark haired beauty who doesn't bow down. Instead, she throws a pie in his face.
Nicholas wants to find out if she tastes as good as her pie, and this heir apparent is used to getting what he wants.
***
Dating a prince isn't what waitress Olivia Hammond ever imagined it would be.
There's a disapproving queen, a wildly inappropriate spare heir, relentless paparazzi, and brutal public scrutiny. While they've traded in horse drawn carriages for Rolls Royces and haven't chopped anyone's head off lately—the royals are far from accepting of this commoner.
But to Olivia—Nicholas is worth it.
***
Nicholas grew up with the whole world watching, and now Marriage Watch is in full force. In the end, Nicholas has to decide who he is, but more importantly, who he wants to be: a King... or the man who gets to love Olivia forever.
Releases October 18th, 2016!
Why am I waiting? Two reasons:
1. This book sounds like fun. Royals and a pie in the face and whatnot. I think I'll really enjoy it.
2. It's about freaking time I read an Emma Chase book. Seriously. And this seems like a super good place to start! (Unless I read a different book by her between now and October. Which is possible. But even if I do, I still think this book is right up my alley and I'm excited to read it!)

That's what we're waiting on this week! What do you think? What are you waiting on? Leave us a comment and link us up!