Who doesn't LOVE a good swoon?! We love them for sure! Check out our swoon below and then add to the fun.
Post anything that made you swoon, past or present read. Include the cover, blurb and links. Please no spoilers.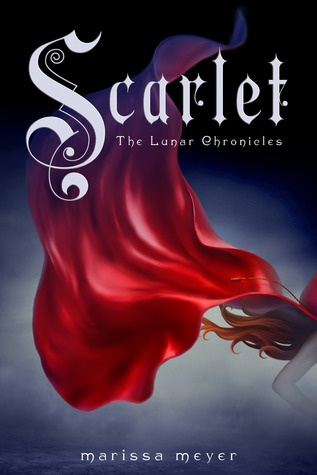 Cinder, the cyborg mechanic, returns in the second thrilling installment of the bestselling Lunar Chronicles. She's trying to break out of prison—even though if she succeeds, she'll be the Commonwealth's most wanted fugitive.
Halfway around the world, Scarlet Benoit's grandmother is missing. It turns out there are many things Scarlet doesn't know about her grandmother or the grave danger she has lived in her whole life. When Scarlet encounters Wolf, a street fighter who may have information as to her grandmother's whereabouts, she is loath to trust this stranger, but is inexplicably drawn to him, and he to her. As Scarlet and Wolf unravel one mystery, they encounter another when they meet Cinder. Now, all of them must stay one step ahead of the vicious Lunar Queen Levana, who will do anything for the handsome Prince Kai to become her husband, her king, her prisoner.
Swoon...
She hesitated. When he still didn't move, Scarlet leaned forward and kissed him. Softly. Just once.
Barely able to breathe around her hammering heart, Scarlet drew back enough for warm air to slip between them, and Wolf dissolved before her, a resigned sigh brushing against her mouth.
Then he was pulling her toward him and bundling her up in his arms. Scarlet gasped as Wolf buried one hand into her mess of curls and kissed her back.
This book, y'all. I LOVE IT.
That's our swoon this week! What about you? Leave us a comment & a link.