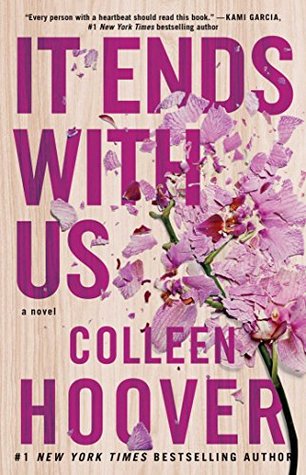 Source: e-ARC provided by publisher in exchange for a fair and honest review.
Lily hasn't always had it easy, but that's never stopped her from working hard for the life she wants. She's come a long way from the small town in Maine where she grew up—she graduated from college, moved to Boston, and started her own business. So when she feels a spark with a gorgeous neurosurgeon named Ryle Kincaid, everything in Lily's life suddenly seems almost too good to be true.
Ryle is assertive, stubborn, maybe even a little arrogant. He's also sensitive, brilliant, and has a total soft spot for Lily. And the way he looks in scrubs certainly doesn't hurt. Lily can't get him out of her head. But Ryle's complete aversion to relationships is disturbing. Even as Lily finds herself becoming the exception to his "no dating" rule, she can't help but wonder what made him that way in the first place.
As questions about her new relationship overwhelm her, so do thoughts of Atlas Corrigan—her first love and a link to the past she left behind. He was her kindred spirit, her protector. When Atlas suddenly reappears, everything Lily has built with Ryle is threatened.
After I finished reading It Ends with Us, I wrote the following on my Goodreads. Originally it was just supposed to be my thoughts directly after reading, but after looking over what I said here I've decided to just use this as my review. Because it's actually not all that bad. Just ignore the stuff at the end about writing a better review, okay? I've tried and as it turns out, this review is the best one I can do. :)
Okay, so. Fun fact: I've had this ARC on my Kindle for a while now, but I've been to afraid to even open it up. Why? Because I KNEW this book would be heavy and emotional and I wasn't sure I could deal. I mean, I WOULD. At some point. But that point hadn't come, so I left the book there on my Kindle, unopened and waiting.
I wasn't even planning on reading this book today. I was going to wait until after it released and then I'd read all the spoilers so I could mentally prepare myself. It'd be like Hopeless all over again--the first Colleen Hoover book I ever read. (Actually, it wouldn't be like Hopeless. I failed miserably at finding suitable spoilers for Hopeless, so I ended up having to go into the book blind and ended up loving it to pieces. SO HEY. My It Ends with Us experience really WAS just like when I read Hopeless!)
But Val (my co-blogger, for those of you who are not aware) started reading IEWU (whew, way less to type that than the whole title) tonight and texted me about it. Nothing crazy spoilery or anything. Just how she felt about a character or two and a little impression of how she was enjoying it (basically that Colleen Hoover is amazing at giving the FEELS--I'd quote Val verbatim, but that would require me getting my phone and finding the text and it's not within arm's reach right now, so...) But I disgress. The point is that Val got me curious.
Soooo...I finally opened the book and took a peek.
And then I kept reading.
And kept reading.
Until I got to the point where it was obvious I was not going to be getting any sleep tonight until I finished the book and knew how everything ended up.
Colleen Hoover always has this extraordinary way of taking concepts and crafting them in a way that makes me look at them differently. Like, she makes me open my eyes to more sides of a situation than I'd normally see. She's done it before with other things, but with THIS BOOK, with IEWU, I am more in awe than ever before. Because I feel such compassion for a person I would probably straight-up dislike otherwise. Because I see how conflicting something that SEEMS so clear-cut can be.
Because even through everything, this book touched my heart in more ways than I can list. Or, more accurately, in more ways than I'm willing to list here because what everyone has been saying is right--it is truly best to go into this book blind and experience it for yourself. ...Which is why I'm being so vague. I'm already reading back over everything I've written, worried I've said too much. I don't want to ruin anyone's reading experience.
But I am confident in saying a couple of things:
1) I'm not the first one to say it, and I have no doubt I will not be the last, but--this is Colleen Hoover's best work to date. I'm glad I got over being a chicken and finally dove in. It was so incredibly worth it.
2) If you only read one Colleen Hoover book in your life, please let it be this one. As I said, it is worth it. So incredibly worth it.
---LITERALLY, I told Val this when I finished reading:
5 stars. Ohmygosh. It's worth it, Val. It hurts and it's tough but it is definitely worth it.
SO. Those are my...brief...thoughts after reading. Hopefully I'll be able to write a more comprehensive review at some point. Until then, I think this suffices, eh? (Actually, reading over this I don't think this is that bad for a review. Better than my attempt at reviewing November 9, at least. I think I need to just start accepting that I can't write well thought out, articulate reviews for Colleen Hoover books. I can only write the babble on my mind and hope people listen to me and believe me when I say that the book was phenomenal.)
(Did you see that? PHENOMENAL. That's a good word for It Ends with Us. More good words for this novel? Stunning. Raw. Poignant. Okay, I'm stopping now. If you've made it this far, kudos to you, my friend!)
5 stars - Colleen Hoover's best work yet!