This is a weekly bookish meme hosted by MizB at Should Be Reading.
* BE CAREFUL NOT TO INCLUDE SPOILERS!
(Make sure that what you share doesn't give too much away! You don't want to ruin the book for others!)
* Share the title & author, too, so that other TT participants can add the book to their TBR Lists if they like your teasers!
Factory mechanic Duke Crawford just wants to watch SportsCenter in peace. Unfortunately, living with four divorcee sisters doesn't provide much silence, nor does it change his stance on relationships. But when a fellow commitment-phobe stumbles into his life, getting him good and worked up, he can't deny his protective instincts.
Samantha Waverly's brother just put her in an impossible situation. The only way out? Marry huge, gruff, gladiator look-alike Duke—for show, of course. She doesn't make promises—she knows too well how easily they can be broken—and this is no exception.
As the blistering attraction between them grows, the lines around the no-strings relationship blur. But Duke and Samantha's marriage is only for show…or is it?
Teaser...
A gusty sigh left him, his hand leaving her neck. "About how long is it going to take you to wake up?" He cleared his throat. "I've got a thing out here. On the balcony."
Wishing she were still being petted, and rather annoyed by that realization, Samantha sat up and took the steaming mug, inhaling deeply and sipping. "What thing?" She grumbled into the mug. "I don't do things in the morning." (Kindle Location 1746)
It's a simple thing but an oh so sweet thing he did for her. She loved it. Trust me. This is a great one. I adore Duke. Review coming soon.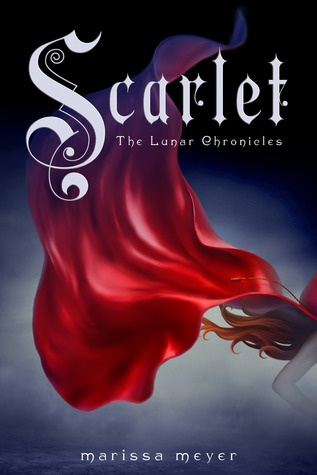 Cinder, the cyborg mechanic, returns in the second thrilling installment of the bestselling Lunar Chronicles. She's trying to break out of prison—even though if she succeeds, she'll be the Commonwealth's most wanted fugitive.
Halfway around the world, Scarlet Benoit's grandmother is missing. It turns out there are many things Scarlet doesn't know about her grandmother or the grave danger she has lived in her whole life. When Scarlet encounters Wolf, a street fighter who may have information as to her grandmother's whereabouts, she is loath to trust this stranger, but is inexplicably drawn to him, and he to her. As Scarlet and Wolf unravel one mystery, they encounter another when they meet Cinder. Now, all of them must stay one step ahead of the vicious Lunar Queen Levana, who will do anything for the handsome Prince Kai to become her husband, her king, her prisoner.
Teaser...
"I've decided you can come with me if we can make it to your ship. Just...try not to talk too much."
He was off his cot before she finished speaking. "It was my irresistible charm that convinced you, wasn't it?"
Oh, Thorne. He's funny and entertaining and I am always glad when the story comes back to him. I am LOVING his character!
Those are our teasers for this week! What do you think? Do you have a teaser to share? Leave us a comment and link us up!