This is a weekly bookish meme hosted by MizB at Should Be Reading.
* BE CAREFUL NOT TO INCLUDE SPOILERS!
(Make sure that what you share doesn't give too much away! You don't want to ruin the book for others!)
* Share the title & author, too, so that other TT participants can add the book to their TBR Lists if they like your teasers!
The men of Alpha Dog, a second chance program for at-risk teens, work hard and play hard. And when it comes to protecting the women they love . . . nothing stands in their way.
Danielle Hill used to live on the wild side, until a surprise pregnancy forced her to get her act together. Now her whole life revolves around her young son, and she will do anything to keep Noah's heart protected, even if it means avoiding the Marine who makes her want to be oh so bad . . .
Tyler Best loves his family, his friends, and his life, and he plans on living it to the fullest after nearly losing it. But Tyler didn't bank on running into a beautiful blond with blazing green eyes and temper to match his. Tyler always thought he wasn't ready to settle down, but Dani and Noah make him rethink his playboy ways . . .
Only just as these two start to build something, a shadow from Dani's past comes back to haunt them. But Tyler will do anything to keep her and Noah safe . . . anything.
Teaser...
Tyler stood on the front porch, grinning like an idiot with a Starbucks cup in his hands.




"If that's for me, I take back all the mean things I've been thinking about you this morning."




"About me?" He handed off her coffee and bestowed a long, lingering kiss on her mouth that left her swaying. "Don't hate. You're going to have fun." (Kindle location 1473)
I really enjoyed this one. Did you miss my review yesterday and the giveaway that went with it? Check it out here.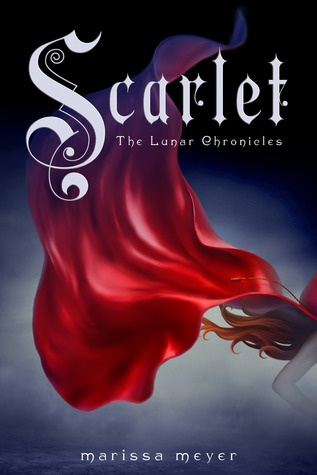 Cinder, the cyborg mechanic, returns in the second thrilling installment of the bestselling Lunar Chronicles. She's trying to break out of prison—even though if she succeeds, she'll be the Commonwealth's most wanted fugitive.
Halfway around the world, Scarlet Benoit's grandmother is missing. It turns out there are many things Scarlet doesn't know about her grandmother or the grave danger she has lived in her whole life. When Scarlet encounters Wolf, a street fighter who may have information as to her grandmother's whereabouts, she is loath to trust this stranger, but is inexplicably drawn to him, and he to her. As Scarlet and Wolf unravel one mystery, they encounter another when they meet Cinder. Now, all of them must stay one step ahead of the vicious Lunar Queen Levana, who will do anything for the handsome Prince Kai to become her husband, her king, her prisoner.
Teaser...
"You're...rather handsome, Captain Thorne."
Cinder groaned.
"And you, my fine, lady, are the most gorgeous ship in these skies, and don't let anyone ever tell you different."
The temperature drifted upward, until Cinder dropped her arms with a sigh. "Iko, are you intentionally blushing?"
Ohmygosh. This was so funny and cute and I love Thorne. That is all.
Those are our teasers for this week! What do you think? Do you have a teaser to share? Leave us a comment and link us up!