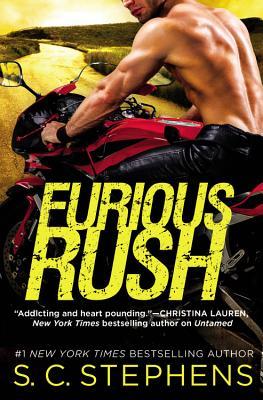 Source: e-ARC provided by the publisher via NetGalley in exchange for a fair and honest review.
Furious Rush by S.C. Stephens
Too fast, too furious-and way too hot to handle . . .
Mackenzie Cox has a lot to prove. Daughter of a racing legend, she is eager to show the world that she has inherited her father's talent in the male-dominated sport of professional motorcycle racing. The last thing Kenzie needs is to be antagonized by her rival team's newest rider, Hayden Hayes. Plucked from the world of illegal street racing, Hayden immediately gets under Kenzie's skin. His insinuations that Kenzie is a spoiled princess who was handed her career fuels her desire to win, and much to her surprise, Kenzie soon learns she performs better when she's racing against Hayden.
As Kenzie and Hayden push each other on the track, the electric energy between them off the track shifts into an intense--and strictly forbidden--attraction. The only rule between their two ultra-competitive teams is zero contact. Kenzie always does her best to play by the rules, but when her team slips into a financial crisis, she has no choice but to turn to Hayden for help. The tension simmers during their secret, late-night rendezvous, but Kenzie has too much to lose to give in to her desires. Especially when she begins to doubt that Hayden has completely left his street life behind...
Goodreads
|
Amazon
|
B&N
Review...
This is the first book I've read by S.C. Stephens, but it's definitely not the first of hers on my radar. I've had my eye on the Thoughtless series for a while, I even have them all on my Kindle, but I've never actually taken the leap into reading them. I was really excited to read Furious Rush, though. It sounded great and I truly thought it'd be up my alley. And it was. For all intents and purposes, I SHOULD have enjoyed this book.
But I didn't.
And it's not even because this is a bad book. It's actually pretty darn good. I just never got super into it. I never fell in love with it. I never got to the point where I was wholly invested in the characters and their story. As I read this novel, I spent the entire time taking note of the good things that should have made me enjoy the story--only to realize that I wasn't enjoying the story. I don't know why. I think this one just wasn't for me, which stinks.
That said, I can tell you some great things about this book. Like the fact that it's so fun. The racing, the forbidden romance, the TENSION that fills the pages. S.C. Stephens did a great job building a solid story, and with a sport that isn't often given the spotlight. The characters were well-defined, both in their personalities and their ambitions. As I said, the shaping of this novel was very well done.
Along with those good points, I can also point out some things that I didn't think were so great about this book. Like the fact that while the characters were painted clearly, some of the steps taken to getting that way were a little over the top. And what I mean by this is that some things were expressly said in the novel in a way that didn't feel organic--instead it was more like the words were included to get those points out there even though they seriously took away from the conversation the characters were having. For example, in the beginning of the book Kenzie and Nikki were talking and Kenzie basically said "You know I'm under a lot of pressure to make my father proud and honor his legacy" and it was so obviously just a piece of information that was needed to be given. I'd have rather that been in Kenzie's internal narration than smacked in the middle of a conversation where it kind of stuck out like a sore thumb.
But anyway. Other things I didn't think were very good about this book. It took me longer than I would have liked to get over my dislike for the love interest. He was a total douche during Kenzie's first interactions with him and while she was getting distracted by how hot he was, I was still wanting to slap him upside his head. Another issue I had was that even after I got over my dislike for Hayden (the love interest), I was on edge around him often. Why? Because I didn't feel like he could be trusted. Which kind of dampened the fun of the romance for me, too, unfortunately.
All that said, however, I think I can chalk my issues with this book up to the fact that this one just wasn't for me. Most others who've read it seem to have enjoyed it and I absolutely see why. Furious Rush is fun, sexy, and definitely a fast read. I flew through it myself, actually. So if you're in the mood for a forbidden romance based around motorcycle racing, I definitely recommend giving this book a shot.
2 stars - A fun and sexy romance that sadly just wasn't for me.
***
As I said, many others liked it so if you'd like to check out a review by someone who enjoyed Furious Rush, try one of these...