Who doesn't LOVE a good swoon?! We love them for sure! Check out our swoon below and then add to the fun.
Post anything that made you swoon, past or present read. Include the cover, blurb and links. Please no spoilers.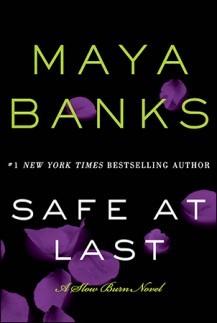 The third book in the beloved #1 bestselling author's sexy, romantic suspense Slow Burn series…
They say young love doesn't last, but a girl from the wrong side of the tracks with unique abilities and the hometown golden boy were determined to defy the odds. For Zack Covington, Anna-Grace—his "Gracie"—was the one. Until one night forever alters the course of their future, when a devastated Gracie disappears without a trace, leaving Zack to agonize over what happened to the girl he loved. As the years pass, his desperate efforts to find her uncovered nothing.
Now working for Devereaux Security, he stumbles across a painting featuring a special place only he and Gracie would know. The image is too perfectly rendered for it to be coincidence. His Gracie must be alive. When he finally tracks her down, he is shocked—and heart-broken—to discover the wounded shell of the girl he once knew and still loves. Her psychic gifts are gone, and worse, she believes he betrayed her all those years ago.
Zack has enemies, and once his weakness is discovered, Gracie becomes a target for revenge. He'll have to save her before he can earn her trust and her love. And he vows they'll never be torn apart again.
Swoon...
And he pressed his lips very gently to hers.
It was a sense of homecoming so powerful, so overwhelming that it very nearly shattered her composure. Nothing had ever been so sweet. Not before. His lips moved with exquisite tenderness until her lips parted and his tongue brushed hers.
She inhaled deeply, taking in his scent, oh so familiar and haunting. And she kissed him back, allowing all her grief, sorrow, regret and...love...to bleed into that kiss.
"I could never hate you, Gracie," Zack said against her lips. "Never. I've always loved you. I always will."
I soooo enjoyed the first two books in this series, so I'm glad to finally be reading this one. Especially since I became a huge fan of Zack in the previous book. I'm excited for him to get his happy ending :)


That's our swoon this week! What about you? Leave us a comment & a link.