Who doesn't LOVE a good swoon?! We love them for sure! Check out our swoon below and then add to the fun.
Post anything that made you swoon, past or present read. Include the cover, blurb and links. Please no spoilers.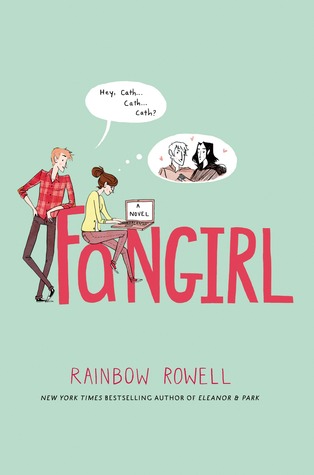 A coming-of-age tale of fanfiction, family and first love
CATH IS A SIMON SNOW FAN. Okay, the whole world is a Simon Snow fan... But for Cath, being a fan is her life--and she's really good at it. She and her twin sister, Wren, ensconced themselves in the Simon Snow series when they were just kids; it's what got them through their mother leaving.
Reading. Rereading. Hanging out in Simon Snow forums, writing Simon Snow fanfiction, dressing up like the characters for every movie premiere.
Cath's sister has mostly grown away from fandom, but Cath can't let go. She doesn't want to.
Now that they're going to college, Wren has told Cath that she doesn't want to be roommates. Cath is on her own, completely outside of her comfort zone. She's got a surly roommate with a charming, always-around boyfriend; a fiction-writing professor who thinks fanfiction is the end of the civilized world; a handsome classmate who only wants to talk about words...and she can't stop worrying about her dad, who's loving and fragile and has never really been alone
For Cath, the question is: Can she do this? Can she make it without Wren holding her hand? Is she ready to start living her own life? And does she even want to move on if it means leaving Simon Snow behind?
Swoon...
"I like your glasses," he said. " I like your Simon Snow T-shirts. I like that you don't smile at everyone, because then, when you smile at me...Cather." He kissed her mouth. "Look at me."
She did.
"I choose you over everyone."
I re-read this yesterday, because sometimes I randomly feel like picking this book up and reading about Cath and Levi all over again, and GOODNESS. Levi. I just....Levi. If you haven't read this book yet, I strongly recommend doing yourself a favor and doing so. THIS BOOK, right here, is a perfect example of why I love reading. I love it so, so much. *happy sigh*
That's our swoon this week! What about you? Leave us a comment & a link.