~ Book Info ~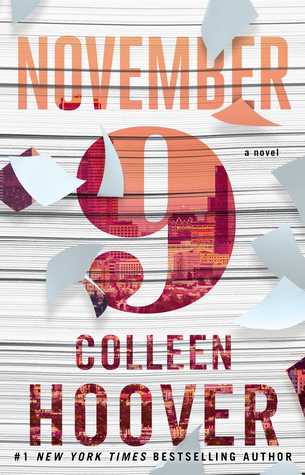 Beloved #1 New York Times bestselling author Colleen Hoover returns with an unforgettable love story between a writer and his unexpected muse.
Fallon meets Ben, an aspiring novelist, the day before her scheduled cross-country move. Their untimely attraction leads them to spend Fallon's last day in L.A. together, and her eventful life becomes the creative inspiration Ben has always sought for his novel. Over time and amidst the various relationships and tribulations of their own separate lives, they continue to meet on the same date every year. Until one day Fallon becomes unsure if Ben has been telling her the truth or fabricating a perfect reality for the sake of the ultimate plot twist.
Can Ben's relationship with Fallon—and simultaneously his novel—be considered a love story if it ends in heartbreak?
Book Links:
~ Review ~
I'm going to be honest: I have no idea what to say in this review. I read November 9 a couple of nights ago in 2-3 hours, and I've been trying to put words to the experience ever since. I'd been planning to spread the book out over a couple of days. I only picked it up at like 1:30am the other night to read the beginning. I thought I'd read the first two or three chapters, and then jump in to finish the rest in the next couple of days. But then I got sucked into this story and read the entire thing in one sitting. The only coherent thing I could think to say at that point was that I love Colleen Hoover. I lover her so much.
I've read three of her books before--Hopeless, Losing Hope, and Slammed. I'd originally read Hopeless not even because I wanted to like it or become a fan of Colleen Hoover. No, I read it because I saw everyone freaking out over it on Goodreads and wanted to know so badly WHY. And I couldn't find any spoilers, so I was left with no choice but to get the book and read it. I ended up not only loving the book, but Colleen Hoover as well. Her writing... it just GOT ME.
And it did it again in Losing Hope and Slammed. And now, it has happened yet another time with November 9. I was kind of scared jumping into this story. I knew the premise, and while it was intriguing, it also made me nervous. Entire years of being apart? There was so much room for things to happen to make me jealous! And angry! And just ahhh! But you know, it works. It honestly works. There were of course moments that felt like a punch in the gut, but it was part of the experience of this book.
November 9 is a journey through all of the feels you could imagine. Happiness, sadness, anger, love, and so much more. There is so much emotion packed into these pages. I somehow managed to not cry while reading this book, but I came close. Especially at the end. I read the last page, and then stared at the wall for a while trying to sort myself out. Because this book made me feel SO MUCH.
And I loved it. I loved every single moment of it. And for that, I love Colleen Hoover. I love her so much.
5 speechless stars - I just love this book so much.
Colleen Hoover
is the #1
New York Times
bestselling author of
Slammed, This Girl, Point of Retreat, Hopeless, Losing Hope, Finding Cinderella, Maybe Someday, Ugly Love, Maybe Not
, and
Confess
. She lives in Texas with her husband and their three boys.
Author Links:
~ Giveaway ~
Win 1 of 5 prize bundles of one signed copy of NOVEMBER 9 and a pair of #November9 sunglasses! Contest is open until November 30th.
This is a tour-wide giveaway run by the publisher. StuckInBooks is not accountable for selecting winners or sending prizes.