This is our version of Waiting on Wednesday but with more cuddles, books we can't wait to cuddle for various reasons.
What are we waiting on this week? THIS!
Captive (Captive, #1) by Brighton Walsh
He's the most dangerous man she's ever met…and she's falling in love with him.

Madison Frost is desperate to escape her life. Daughter of a prominent businessman, she has everything a girl could ask for. Except for a family who's present in her life, and anyone to talk to outside the four walls of the prison she calls home. Madison dreams of one day leaving her life behind. She never thought being kidnapped is how it would happen.

Now she's being held captive by a man who's as frightening as he is sinfully gorgeous. Enormous, muscular, and filled with secrets, the man they call Ghost is an enigmatic mercenary, and Madison is trapped with him. She doesn't know who hired him or why, but the more time she spends at his mercy, the more she realizes he's not what he seems. Beneath his rough exterior lies an unexpected gentleness and a heart as broken and battered as her own.

But as Madison lets down her walls, Ghost holds tight to his, hiding secrets that could destroy everything.
Why am I waiting? I recently discovered this author and fell in love. Can't wait for more!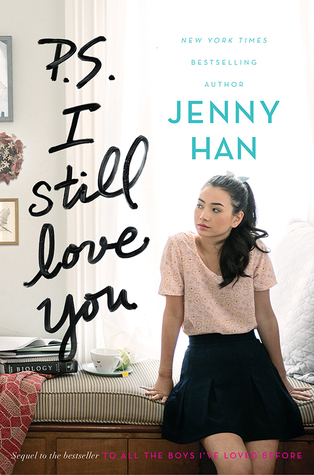 P.S. I Still Love You (To All the Boys I've Loved Before #2) by Jenny Han
Lara Jean didn't expect to really
fall
for Peter.
She and Peter were just pretending. Except suddenly they weren't. Now Lara Jean is more confused than ever.
When another boy from her past returns to her life, Lara Jean's feelings for him return too. Can a girl be in love with two boys at once?
In this charming and heartfelt sequel to the
New York Times
bestseller
To All the Boys I've Loved Before
, we see first love through the eyes of the unforgettable Lara Jean. Love is never easy, but maybe that's part of makes it so amazing.

Why am I waiting? I need this sequel like I need air. My heart is in pieces after the ending to book 1, and I need so badly to see where everything goes next. I am completely Team Peter right now, and I'm also incredibly nervous to see how things turn out. But I absolutely 100% am in serious need of this book. I CANNOT WAIT. *grabby hands*


That's what we're waiting on this week! What do you think? What are you waiting on? Leave us a comment!