This is our version of Waiting on Wednesday but with more cuddles, books we can't wait to cuddle for various reasons.
What are we waiting on this week? THIS!
Exposed (Captive, #2) by Brighton Walsh
In this sexy, suspenseful New Adult novel, a young woman hiding from her criminal past is taken captive by her ex-boyfriend, the ultimate bad boy.

Evie is about to embark on the perfect life. Beautiful, poised, and engaged to a rising business star, she fits the part of trophy wife perfectly, except for one thing: her entire identity is a lie.

Five years ago she created a new identity for herself, but it all crashes back when something she witnessed years ago comes back to haunt her. Now she's in danger of losing more than her social status.

Determined to protect the careful life she's built for herself, Evie doesn't want anything to do with Riley, the criminal for hire who broke her heart years ago. But Riley has other ideas. He's never forgotten Evie, and to protect her, he steals her away. Hidden from the world, sparks begin to fly as old memories resurface and their passion reignites.
Why am I waiting? I just got Captive and I'm super excited to read it. I love this author and am down for the series.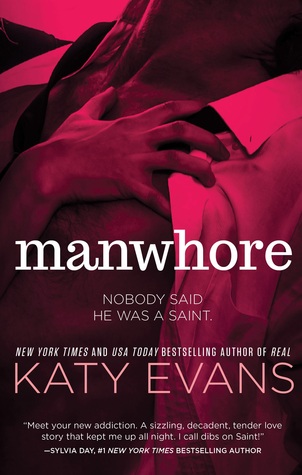 Manwhore (Manwhore #1) by Katy Evans
Is it possible to expose Chicago's hottest player—without getting played?
This is the story I've been waiting for all my life, and its name is Malcolm Kyle Preston Logan Saint. Don't be fooled by that last name though. There's nothing holy about the man except the hell his parties raise. The hottest entrepreneur Chicago has ever known, he's a man's man with too much money to spend and too many women vying for his attention.
Mysterious. Privileged. Legendary. His entire life he's been surrounded by the press as they dig for tidbits to see if his fairytale life is for real or all mirrors and social media lies. Since he hit the scene, his secrets have been his and his alone to keep. And that's where I come in.
Assigned to investigate Saint and reveal his elusive personality, I'm determined to make him the story that will change my career.
But I never imagined he would change my life. Bit by bit, I start to wonder if I'm the one discovering him...or if he's uncovering me.
What happens when the man they call Saint, makes you want to sin?
Releases March 24th, 2015


Why am I waiting? Because I ADORE Katy Evans. Her writing is fantastic and her guys never fail to make me swoon. I get so taken by her stories, and I can't wait to fall into this one!

That's what we're waiting on this week! What do you think? What are you waiting on? Leave us a comment!