This is our version of Waiting on Wednesday but with more cuddles, books we can't wait to cuddle for various reasons.
What are we waiting on this week? THIS!
Set in the same world as
The Promise of Amazing
, this smart, surprising, and (of course) romantic follow-up to Robin Constantine's debut novel follows two New Jersey teens as they become friends and fall in love.
Madison Parker is on fast-forward. Working toward a scholarship for a summer art program, she already has her future figured out. But when a visit from a family friend turns her life upside down, everything she thought she knew becomes blurred. All she wants is to stand still for a moment.
Jesse McMann is stuck on repeat. Reeling from a breakup that shattered his heart and his band, Jesse divides his time between working as a barista and trying to find the inspiration to write music again. All he wants to do is move forward.
The night Maddie strolls into Jesse's coffee shop after yoga class, the last thing on his mind is hooking up, but her smile and witty comebacks are hard to ignore. The spark between them is undeniable, but once-a-week flirting is hardly the stuff of epic romance.
Kismet arrives in the unlikely form of Grayson Barrett. When Jesse discovers that Gray's girlfriend is also Maddie's best friend, he invites Gray to join his band as their new drummer, hoping this connection will give him more time around Maddie. Slowly but surely, Jesse and Maddie forge a friendship, but do they have what it takes to make their relationship truly sync?
Available April 28th from Balzer & Bray/Harperteen
Why am I waiting? I adore that cover. Then there is the once-a-week flirting turned into something more. That sounds fun. Yep. Waiting for this one.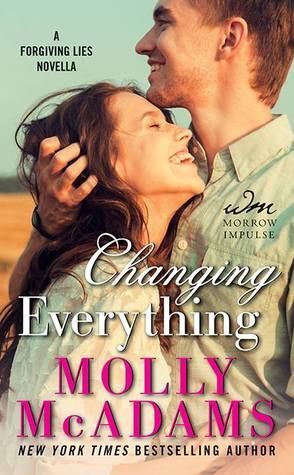 Changing Everything (Forgiving Lies #2.5) by Molly McAdams
Paisley Morro has been in love with Eli since they were thirteen-years-old. But after twelve years of only being his best friend and wingman, the heartache that comes from watching him with countless other women becomes too much, and Paisley decides its time to lay all her feelings on the table.
Eli Jenkins has a life most guys would kill for: Dream job, countless women, and his best friend, Paisley, to be the girl he can always count on for everything else. But one conversation not only changes everything between them, it threatens to make him lose the only girl who has ever meant anything to him.
When tragedy strikes his family and Eli is forced to reevaluate his life, he realizes a life without Paisley isn't a life at all. Only now, he may be too late.
Available March 3rd from William Morrow Impulse
Why am I waiting? Because this is by Molly McAdams. I'm sure you've noticed by now that A) I am obsessed, and B) I freaking love her and her books. So I totally need to get my hands on this novella. Plus, I LOVE Forgiving Lies. I am so looking forward to Eli's story!
That's what we're waiting on this week! What do you think? What are you waiting on? Leave us a comment!