This is our version of Waiting on Wednesday but with more cuddles, books we can't wait to cuddle for various reasons.
What are we waiting on this week? THIS!
So...um...I had this picked out for this week's WOW. It was set like weeks ago. Then this week, I got the ARC in the mail! AND it's so good. Cause I couldn't not pick it up and READ.
Tessa Ever After (Caged In Winter, #2) by Brighton Walsh
In this grippingly emotional New Adult novel from the author of Caged in Winter, what you want isn't always what you need…

Jason's been living (and loving) the rich playboy lifestyle for five years, but now his parents are pressuring him to get involved in the family business. The last thing he wants is another obligation, but when his best friend moves out of state and asks Jason to look after his sister, he can't just say no.

Tessa had to grow up way too soon. After dealing with the aftermath of her parents' deaths, then becoming a teenage mom, she knows the meaning of responsibility. Which is why, at twenty-two, she's looking for so much more than a party boy. She's looking for someone who can stand by her and her daughter…forever.

A relationship between them is doomed from the start, but who says they can't have a little fun? But as Jason gets closer to Tessa—and her daughter—fun starts to turn into something else… Something Jason's not sure he's ready for.
Originally, I was gonna say that I was waiting on this one because so loved the first book. This author has a style that works so well for New Adult. Her characters are real and the problems they face genuine. Love her.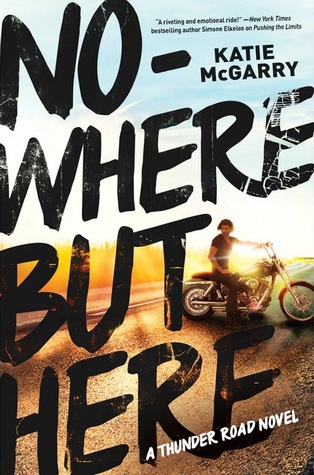 Nowhere But Here (Thunder Road #1) by Katie McGarry
An unforgettable new series from acclaimed author Katie McGarry about taking risks, opening your heart and ending up in a place you never imagined possible.
Seventeen-year-old Emily likes her life the way it is: doting parents, good friends, good school in a safe neighborhood. Sure, she's curious about her biological father—the one who chose life in a motorcycle club, the Reign of Terror, over being a parent—but that doesn't mean she wants to be a part of his world. But when a reluctant visit turns to an extended summer vacation among relatives she never knew she had, one thing becomes clear: nothing is what it seems. Not the club, not her secret-keeping father and not Oz, a guy with suck-me-in blue eyes who can help her understand them both.
Oz wants one thing: to join the Reign of Terror. They're the good guys. They protect people. They're…family. And while Emily—the gorgeous and sheltered daughter of the club's most respected member—is in town, he's gonna prove it to her. So when her father asks him to keep her safe from a rival club with a score to settle, Oz knows it's his shot at his dream. What he doesn't count on is that Emily just might turn that dream upside down.
No one wants them to be together. But sometimes the right person is the one you least expect, and the road you fear the most is the one that leads you home.

Why am I waiting? Well, I'll pretty much read anything by Katie McGarry. Her books always rock. But ALSO, I get this feeling that this book is going to be addicting. And that this series in general is going to be so freaking good. Cannot wait to get my hands on this book!


That's what we're waiting on this week! What do you think? What are you waiting on? Leave us a comment!