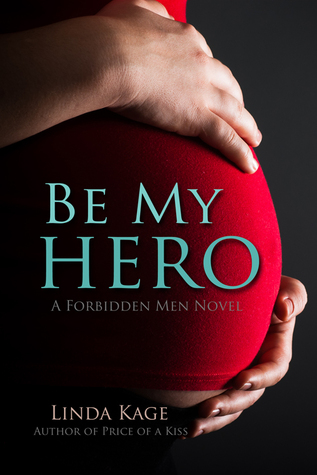 Source: e-copy provided by the author in exchange for a fair and honest review.
Once upon a time, there was this pampered rich girl who was kind of full of herself. She really only cared about appearances and hiding all her dark, ugly secrets under the guise of an opinionated snob. But then Eva Mercer got pregnant, shot by a psycho, and kicked out of the only home she knew. Now she's broke, unemployed, and has to start anew with a newborn to raise. But how?
On the other side of town, sexy, tattooed orphan, Patrick Ryan, can't get a break. He's out on parole for defending the last damsel in distress while trying to help her support her child, but all he wants is to find his one true love. He knows this woman by scent, smile, and laugh, but he's never actually met her. He doesn't even know her name. He just knows she's the key to fixing everything.
One kind of hero can save you from physical harm. Another can rescue you from a different kind of doom. To reach their dreams, Eva and Pick can save each other. But first, they must open their hearts and learn how to trust.
Review...
I've been obsessed with this series for a good portion of this year. Ever since Val peer pressured me into reading
A Perfect Ten
. I LOVED that book and decided I needed to get my hands on the rest of the series as fast as humanly possible--which I did. And then I decided I needed to read them ASAP--which I...am still working on. I've read books one and two already, and adored them. Then came this one, book three. I was looking forward to Pick and Eva's story, but I wasn't sure at all what I should expect. I knew shreds of their story through the previous books, but that only gave me a bare expectation.
The reality of this book is that it is absolutely amazing and a perfect addition to a breathtaking series.
We already knew Pick was cool, but in this book we get the full effect, and...dear goodness. Pick is such a wonderful person. Genuine, caring, and kind. Just an all around awesome person that I wish were real so I could be friends with him. Of all the good guys I've read about in books, Pick is at the top of that list, and I adore him.
We already knew Eva was a handful, to say the least. But in this book, we get in her head and find out WHY. And we see what a great person she can be when she lets herself. I didn't expect to really like Eva, based on past experience, but ohmygoodness she is lovely. I'm glad she has Pick and Pick has her.
The romance was cute and sweet, and of course had some sexy times. There was a great balance of it all, which I loved. Pick and Eva had a connection that was cool to witness and made their romance even more stunning. They've both been dealt crap hands in life, but then they finally get each other. Sure, they had some obstacles to overcome (some pretty large ones), but they did it. And they so deserve to be together and have their cute, happy family.
Be My Hero
reminded me yet again why I love Linda Kage's writing so much--her stories are utterly addicting! I pick up one of her books and suddenly I'm over halfway through wondering how that happened and what am I going to do with myself once I finish the story? And yes, this totally happened with
Be My Hero
. I get so attached to the characters and what's going on with them, and I just want everything to be okay but I also never want to part with them, never want to get to the end. But then I do, and I am just so satisfied, with everything. The characters, the story, the romance, the writing. I adore it all.
Overall, I loved
Be My Hero.
It's a very welcome addition to one of my favorite series, and I never wanted it to end. I adored the characters, their romance, and the addictive quality laced throughout the entire thing. I 100% plan to continue with this series as soon as I can, and I am so looking forward to reading Quinn's story! He's adorable and I love him and oh that is going to be great. I definitely recommend this series if you're looking for some beautiful, addicting romance!
5 stars - An addicting addition to one of my favorite series that I never wanted to end!