Victoria Scott is awesome. She's a lovely person who writes fantastic books--which I LOVE. So it's super freaking exciting that I have a giveaway for one of those great books for y'all! Salt & Stone is the second book in the Fire & Flood series, and it rocks. (I refuse to admit whether or not that pun was intentional.) Check out more about the book and the series (and links to my reviews of both books!) below, and then enter the GIVEAWAY! -Jess :)
Fire & Flood (Fire & Flood #1) by Victoria Scott
Time is slipping away....
Tella Holloway is losing it. Her brother is sick, and when a dozen doctors can't determine what's wrong, her parents decide to move to Montana for the fresh air. She's lost her friends, her parents are driving her crazy, her brother is dying—and she's helpless to change anything.
Until she receives mysterious instructions on how to become a Contender in the Brimstone Bleed. It's an epic race across jungle, desert, ocean, and mountain that could win her the prize she desperately desires: the Cure for her brother's illness. But all the Contenders are after the Cure for people they love, and there's no guarantee that Tella (or any of them) will survive the race.
The jungle is terrifying, the clock is ticking, and Tella knows she can't trust the allies she makes. And one big question emerges: Why have so many fallen sick in the first place?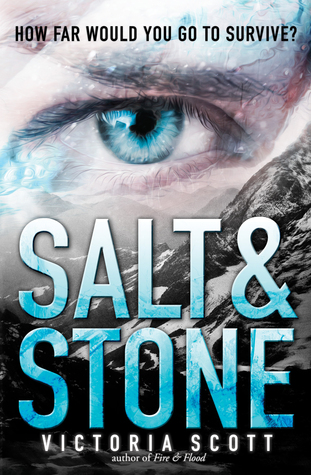 Salt & Stone (Fire & Flood #2) by Victoria Scott
What would you do to save someone you love?
In Fire & Flood, Tella Holloway faced a dangerous trek through the jungle and across the desert, all to remain a Contender in the Brimstone Bleed for a chance at obtaining the Cure for her brother. She can't quit--she has to win the race, save Cody, and then fight to make sure the race stops before it can claim any more lives. In the next legs of the race, across the ocean and over mountains, Tella will face frostbite, sharks, avalanche, and twisted new rules in the race.
But what if the danger is deeper than that? How do you know who to trust when everyone's keeping secrets? What do you do when the person you'd relied on most suddenly isn't there for support? How do you weigh one life against another?
The race is coming to an end, and Tella is running out of time, resources, and strength. At the start of the race there were one hundred twenty-two Contenders. As Tella and her remaining friends start the final part of the race, just forty-one are left--and only one can win.
~MY REVIEW~
**About the Author**
Victoria Scott is a teen fiction writer represented by Sara Crowe. She's the author of the FIRE & FLOOD series published by Scholastic, and the DANTE WALKER trilogy published by Entangled Teen. Her books have been bought and translated in eleven foreign markets including the UK, Turkey, China, Poland, Germany, Australia, Israel, Taiwan, Brazil, New Zealand, and the Netherlands.
Victoria lives in Dallas with her husband and hearts cotton candy something fierce.
**Giveaway**
Scholastic is sponsoring one ARC of Salt & Stone for us to give away!
- US only
- Giveaway ends 12 am EST on May 17th
- Enter through the Rafflecopter below :)
a Rafflecopter giveaway