This is our version of Waiting on Wednesday but with more cuddles, books we can't wait to cuddle for various reasons.
What are we waiting on this week? THIS!
Some things are sexier the second time around.

Cal Payton has gruff and grumbly down to an art...all the better for keeping people away. And it usually works. Until Jenna MacMillan-his biggest mistake---walks into Payton and Sons mechanic shop all grown up, looking like sunshine, and inspiring more than a few dirty thoughts.

Jenna was sure she was long over the boy she'd once loved with reckless abandon, but one look at the steel-eyed Cal Payton has her falling apart all over again. Ten years may have passed, but the pull is stronger than ever... and this Cal is all man.

Cal may have no intention of letting Jenna in, but she's always been his light, and it's getting harder to stay all alone in the dark. When a surprise from the past changes everything, Cal and Jenna must decide if their connection should be left alone or if it's exactly what they need for the future of their dreams.
Why am I waiting? I love this authors books. So good. I'm sure this one will be too. And a second chance story? With a mechanic? Yes, please.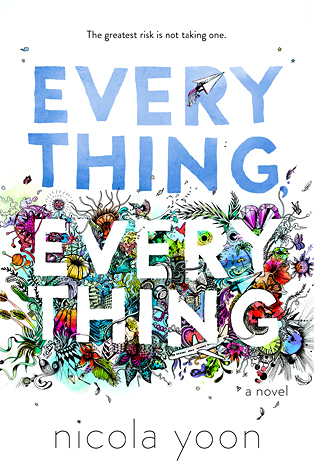 This innovative, heartfelt debut novel tells the story of a girl who's literally allergic to the outside world. When a new family moves in next door, she begins a complicated romance that challenges everything she's ever known. The narrative unfolds via vignettes, diary entries, texts, charts, lists, illustrations, and more.
My disease is as rare as it is famous. Basically, I'm allergic to the world. I don't leave my house, have not left my house in seventeen years. The only people I ever see are my mom and my nurse, Carla.
But then one day, a moving truck arrives next door. I look out my window, and I see him. He's tall, lean and wearing all black—black T-shirt, black jeans, black sneakers, and a black knit cap that covers his hair completely. He catches me looking and stares at me. I stare right back. His name is Olly.
Maybe we can't predict the future, but we can predict some things. For example, I am certainly going to fall in love with Olly. It's almost certainly going to be a disaster.
Why am I waiting? Because this book looks so incredibly interesting! It totally seems like something I'd love. Plus, Steph from
Cuddlebuggery
loved it. THAT IS A VERY GOOD SIGN, MY FRIENDS. *grabby hands*
That's what we're waiting on this week! What do you think? What are you waiting on? Leave us a comment!