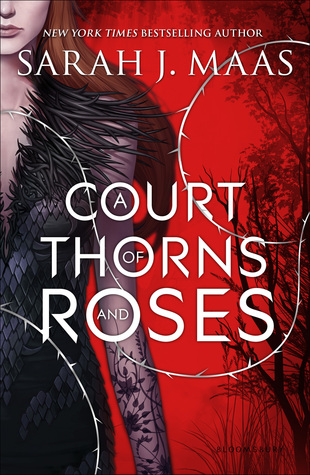 Source: ARC provided by the publisher in exchange for a fair and honest review.
A thrilling, seductive new series from New York Timesbestselling author Sarah J. Maas, blending Beauty and the Beast with faerie lore.
When nineteen-year-old huntress Feyre kills a wolf in the woods, a beast-like creature arrives to demand retribution for it. Dragged to a treacherous magical land she only knows about from legends, Feyre discovers that her captor is not an animal, but Tamlin—one of the lethal, immortal faeries who once ruled their world.
As she dwells on his estate, her feelings for Tamlin transform from icy hostility into a fiery passion that burns through every lie and warning she's been told about the beautiful, dangerous world of the Fae. But an ancient, wicked shadow grows over the faerie lands, and Feyre must find a way to stop it . . . or doom Tamlin—and his world—forever.
Perfect for fans of Kristen Cashore and George R. R. Martin, this first book in a sexy and action-packed new series is impossible to put down!
Releases May 5th, 2015
Review...
Before this book, I'd only read one by Sarah J. Maas--Throne of Glass. I absolutely loved it, and am looking forward to continuing the series. So picking this one up was both exciting (because I expected some serious AMAZING) and terrifying (because...I expected some AMAZING). I hadn't put much thought as to what this book actually was before. I knew it was a beauty and the beast retelling. I knew it was fantasy. And I remembered liking the synopsis, though I couldn't precisely remember what it said. So I went into this knowing the bare minimum, but with the highest of hopes.
And then my. Mind. Was. BLOWN.

Truly, if this book does not end up on my favorites of 2015 list, it's because another Sarah J. Maas book took its place. That is literally the ONLY way this book wouldn't make it. (Because I limit to one per author, since a certain fav of mine...*cough*JLA*cough* would probably dominate things otherwise.)

There are so many good things I have to say about this book. I don't have a particular order in which I think they should fall, because it was all fantastic, all together. So I'm just going to start talking about stuff and hopefully it will make sense. But please please please know that this book is amazing. If the only thing you take away from this review is that I love the crap out of this book and it's positively wonderful and you should totally pick it up, that's fine with me.

OKAY, here we go.

The writing. Sarah J. Maas has some of the most beautiful writing I've ever read. It's passionate and descriptive, and I don't get bored. Descriptive and bored tend to go hand in hand for me sometimes, so it's great when it's written in a way that holds my attention and interest. And I'm not a huge fantasy reader. I'm trying to get better, but for the most part I haven't read much. Sarah J. Maas makes fantasy so incredibly appealing. Her world building is efficient and not info-dumpy. And the way she just weaves the entire story is like a work of magic in and of itself. It's enchanting.

The characters. The main character is Feyre, and she's fierce. The story is told from her POV, so we get a super good grasp of her as a character. Definitely one of my favorite MCs. Then there's Tamlin. I love him. He's strong and kind, and he can be so adorable. Him trying to flatter Feyre when she first comes to live with him was the cutest thing. Two other characters of mention are Lucien and Rhys. Lucien was a fantastic friend, and I so enjoyed him. His name is a favorite of mine, too. Rhys...is more complicated. I don't dislike him, but I'm also not sure exactly how I feel about him yet. He's one character in particular I'm looking forward to getting to know better in the next books.

The ROMANCE. Ohmygoodness. So much sweetness and heat and straight-up love. My heart went all aflutter pretty much constantly for a good amount of this book. Tamlin and Feyre make quite the couple, one of my favorites.

The story and plot were interesting and exciting. A Beauty and the Beast retelling, but spun in a unique way so that everything wasn't predictable. I was caught off guard more than once by the direction the story turned. The entire thing had an amazing addicting quality that had the pages passing so easily. My reading of this book was stretched out for some time, but that had nothing to do with the story and everything to do with me and my reading schedule. When I had time to pick the book up, I dove in and was immersed in the world and story and it flew by.