This is our version of Waiting on Wednesday but with more cuddles, books we can't wait to cuddle for various reasons.
What are we waiting on this week? THIS!
In the second novel in bestselling author Caisey Quinn's Neon Dreams series, a country rock band and its members embark on the rocky road to fame and find love along the way.
Dallas Lark is so close to achieving his dream of making it big in country music that he can taste it. Arriving in Nashville after signing with sexy, successful manager Mandy Lantram, his life goes from tragedy and turmoil to one lucky break after another—except it isn't really luck because Dallas has sacrificed everything for his career, leaving behind his band, sister, best friend, and high school sweetheart, Robyn, in the pursuit of fame.
Robyn Breeland is a successful marketing coordinator and promotions specialist for a thriving liquor distributor out of Texas. She loves every aspect of her job: coming up with new ideas, traveling, hosting promotional parties and exclusive events—until it brings her face-to-face with the man who broke her heart, prompting her to erect a steel cage around it.
When their paths collide and they're forced to work together, Dallas and Robyn realize that the old spark they thought they'd extinguished might still be a burning flame.
From William Morrow Books
Why am I waiting? The books I've read from this author, I've loved. And this series has called to me for a while. This one more than the first, is calling me to read it. I can't ignore it forever. :)
FINALLY this book has a cover so I can WOW it!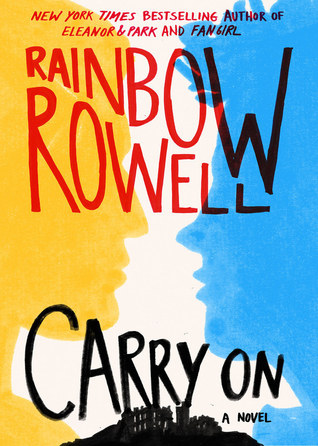 Rainbow Rowell continues to break boundaries with
Carry On
, an epic fantasy following the triumphs and heartaches of Simon and Baz from her beloved bestseller
Fangirl.
Simon Snow just wants to relax and savor his last year at the Watford School of Magicks, but no one will let him. His girlfriend broke up with him, his best friend is a pest, and his mentor keeps trying to hide him away in the mountains where maybe he'll be safe. Simon can't even enjoy the fact that his roommate and longtime nemesis is missing, because he can't stop worrying about the evil git. Plus there are ghosts. And vampires. And actual evil things trying to shut Simon down. When you're the most powerful magician the world has ever known, you never get to relax and savor anything.
Carry On
is a ghost story, a love story, a mystery and a melodrama. It has just as much kissing and talking as you'd expect from a Rainbow Rowell story — but far, far more monsters.
Available October 6th
(aka FOREVER AND A HALF AWAY)
from St. Martin's Griffin
Why am I waiting? I freaking ADORE Fangirl. One of my favorite books of all time, one of my favorite book boyfriends of all time, just an amazing book all around. So I'm sure you can imagine my complete and utter elation at the news that this book--THIS BOOK THIS BOOK THIS EFFING SIMON AND BAZ BOOK--was going to be a thing. I am so excited for this book, there are honestly no words to explain. So I'm just going to urge you to imagine my squeal, yes a freaking SQUEAL, when this book was announced. It was loud, it could have made ears bleed, and yeah I kind of cried a little. Now it has a cover and I can properly stare at it while I pace impatiently for this beauty to GET INTO MY HANDS.
So...yeah. Carry On.
That's what we're waiting on this week! What do you think? What are you waiting on? Leave us a comment!