The fabulous girls over at
YA Bound
created this super HOT meme. Here's how it works.
From the book you're currently reading, or one you just finished, tell us what made you SWOON. What got your heart pounding, your skin tingling, and your stomach fluttering.
Shout it out on Twitter with the hashtag #YABound, post it here in the comments, or grab the adorable button above and share it on your blog! I want to know & so do the chicks at YABound!
Originally appeared in the e-book anthology All I Want for Christmas Is a Cowboy.

Jennifer Ryan, author of the New York Times bestselling The Hunted Series and the upcoming Montana Men Series, takes us to the very beginning in this Christmas prequel about two people who finally receive the one thing they've always wanted … each other.

Though she is the woman of his dreams, Caleb Bowden knows his best friend's sister, Summer Turner, is off-limits. He won't cross that line. Summer shares a connection with Caleb she's never felt with anyone else, but the stubborn man refuses to turn their flirtatious friendship into something more. Summer will have to take matters into her own hands if she wants her cowboy for Christmas.
Swoon...
His hands remained gentle, cradling her face, but his lips took possession and consumed. His tongue slipped past her lips to taste and slide against hers. Her fingertips dug into his shoulders, pulling him closer. (Kindle Location 492)
More Christmas swooon! I'm enjoying all the holiday reads. What do you think?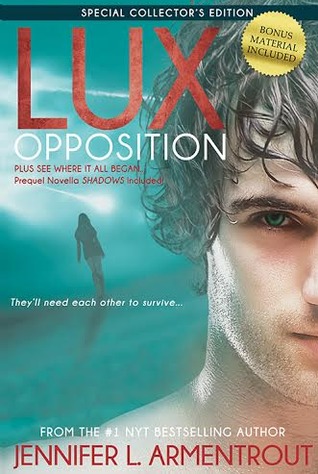 Opposition (Lux #5) by Jennifer L. Armentrout
Katy knows the world changed the night the Luxen came.
She can't believe Daemon welcomed his race or stood by as his kind threatened to obliterate every last human and hybrid on Earth. But the lines between good and bad have blurred, and love has become an emotion that could destroy her—could destroy them all.
Daemon will do anything to save those he loves, even if it means betrayal.
They must team with an unlikely enemy if there is any chance of surviving the invasion. But when it quickly becomes impossible to tell friend from foe, and the world is crumbling around them, they may lose everything— even what they cherish most—to ensure the survival of their friends…and mankind.
War has come to Earth. And no matter the outcome, the future will never be the same for those left standing.
Swoon...
Easing into the room, I was surprised to see Kat sitting up in bed. Hair air-dried, it tumbled down in messy waves, then fell over her shoulders and down her arms.
"Is everything okay?" She rubbed her eyes with balled fists.
"Yeah. Found you some clothes." For a moment,I just stared at her as she lowered her hands, tossed off the covers, and stood. My heart thumped.
Sometimes--and it happened at random moments--I was blown away by the fact that she was mine and I was hers. This was one of those times.
I cannot tell you how happy my heart was when I read this. I've been putting off reading this book for forever because I'm such a scaredy cat, but little sweet moments like this remind me why this series is my favorite. I am LOVING this book, y'all. Sweet moments, intense moments, moments that give me heart attacks, and all. It's freaking great.
Those are our swoons! What do you think? Do you have a swoon to share? Leave a comment!