This is my version of Waiting on Wednesday but with more cuddles, books I can't wait to cuddle for various reasons.
What are we waiting on this week? THIS!
Miles from Kara (Charleston Haven, #2) by Melissa West
Kara Marcus is desperate to forget the past and move on. But she can't escape her choices—especially when she finds herself falling in love…
Since the first day she stepped into her childhood Southern Baptist church, two truths have been engrained in Kara Marcus's head: sex before marriage is bad and murder is a sin. And that's why Kara can never forgive herself for what she did at the age of sixteen.
Now, as second semester of freshman year comes to a close, Kara has stood by her high school boyfriend, Ethan. But as they seem to grow further and further apart every day, Kara realizes that she has feelings for someone else: Ethan's roommate Colt.
Suddenly, Kara's clear-cut world shifts out of focus, and she's torn between what her head tells her is right and what her heart is desperately pushing her to do—even if it means committing another undeniable sin...
Why am I waiting? This first book was so different and so wonderful and I can't wait for more!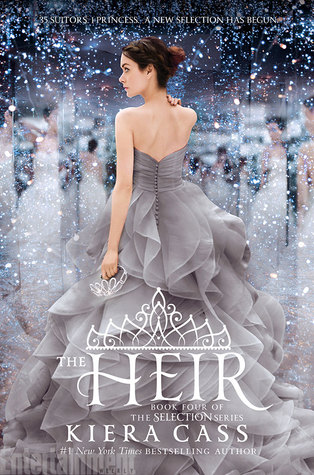 The Heir (The Selection #4) by Kiera Cass
Twenty years ago, America Singer entered the Selection and won Prince Maxon's heart. Now the time has come for Princess Eadlyn to hold a Selection of her own. Eadlyn doesn't expect her Selection to be anything like her parents' fairy-tale love story. But as the competition begins, she may discover that finding her own happily ever after isn't as impossible as she always thought.
Why am I waiting? Well. First of all. Can you SEE that cover? I imagine it being so beautiful and sparkly in person. My favorite of the series so far! And, moving on from the cover, there's the fact that this is a flip of the selection. A bunch of guys for one girl. I am SO EFFING EXCITED to see how that pans out! I had wished it was the other way around when reading The Selection, because I get super jealous when Maxon has to spend time with those other girls, and now it's HAPPENING. Mix that with a twin brother--yay yay yay!--and Maxon and America as parents? I think I may explode with excitement, y'all!
What do you think? What are you waiting for? Leave us a comment.