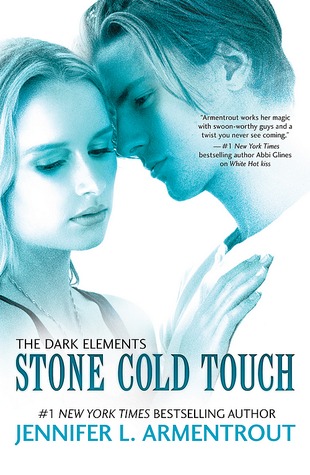 Source: Print ARC from BEA in exchange for a fair and honest review.
Every touch has its price

Layla Shaw is trying to pick up the pieces of her shattered life—no easy task for a seventeen-year-old who's pretty sure things can't get worse. Her impossibly gorgeous best friend, Zayne, is forever off-limits thanks to the mysterious powers of her soul-stealing kiss. The Warden clan that has always protected her is suddenly keeping dangerous secrets. And she can barely think about Roth, the wickedly hot demon prince who understood her in ways no one else could.

But sometimes rock bottom is only the beginning. Because suddenly Layla's powers begin to evolve, and she's offered a tantalizing taste of what has always been forbidden. Then, when she least expects it, Roth returns, bringing news that could change her world forever. She's finally getting what she always wanted, but with hell literally breaking loose and the body count adding up, the price may be higher than Layla is willing to pay…
Review...
After White Hot Kiss, I was at least twenty different levels of upset. That book hit me right in the heart and that ending? GOODNESS. Like most other people who read the book, I started making grabby hands for book 2 the moment I finished book 1. The wait for this one was hard, but it happened and then I got this book, and I am so happy to say that waiting was well worth it, because this sequel was fantastic.
Layla's narration was just as humorous as it was in the first book, and that made even the parts of the story that could have been slower amusing. She's still struggling with being half-demon and half-warden, along with other troubles that pop up. Honestly, she's got a lot on her plate. She doesn't always deal with that perfectly, but she did do the best she could within her circumstances. I like Layla, and if she were real--along with Zayne and Roth, I hope--I'd totally be friends with her.
In White Hot Kiss, Zayne was around, but we didn't get an abundant amount of time with him. We spent more time with Roth. So seeing Zayne in this book and getting to know him and his personality better, I have to admit that I am a fan and I definitely see how he's competition for Roth. Setting aside the triangle for a second, though, I have to acknowledge that Zayne is a super good guy and I'd cuddle with him any day.
Roth was my number one boy all day every day in book 1. Especially with the ending that made me cry, I fell all over myself for him. I am SO GLAD he came back in this book. I never really believed he'd stay away forever after White Hot Kiss, but still. It's a relief to have him back, even if he didn't always act the way I wanted him to in Stone Cold Touch. I had lots of faith in Roth, so I held out hope that everything he said and did was for a reason. Overall, though, Roth is still Roth. Attitude, snark, and all. I definitely heart him something fierce.
The romance...dear sweet baby Jesus. THE ROMANCE. My heart was aflutter all over the place. Whereas in the first book, we pretty much just had Roth, now we have Roth AND Zayne. And I know some people are resistant to that, but honestly. Both of these guys are worthy. I'd be okay with both guys ending up with Layla. They both are protective, they both have their sweet moments, and they both make my heart happy. I'm going to hurt for whichever guy doesn't get the girl regardless. If I HAVE to pick a team, though, (which I did, since there was no way I'd miss voting) I'd go with Roth. I had that loyalty to him from the beginning, and he really pulled through in this book. Zayne, though...
THIS CHOICE. HOW IS IT EVEN POSSIBLE? I'm hurting already for whichever guy loses. I love them both!
The writing and story were both just as addicting and entrancing as I've come to expect from JLA books. It was a doozy this time, because I read the first half of the book like, "Okay, these things are happening. Got it." Then the second half happened. And it kept happening. And I got to the end chunk of the book and I was FREAKING THE HECK OUT. So many feels. I swear. This book is a punch to the feels in the most amazing way, and I loved it so much.
Overall, Stone Cold Touch was an enthralling sequel to White Hot Kiss. Lots of romance, humor, and badassery took place to make this book darn hard to put down. It's a roller coaster ride of flail-worthy proportions, and I am absolutely dying for Every Last Breath. Grabby hands everywhere, y'all.
5 stars - A sequel full of romance, humor, and badassery that left me breathless for more!
Val reviewed Stone Cold Touch at the end of September. Click on the image below to see what she had to say!