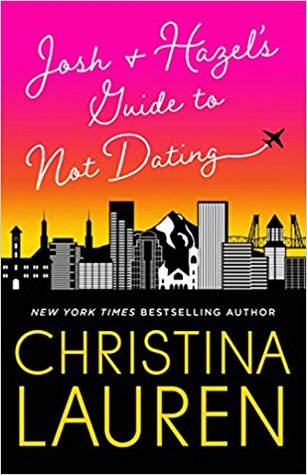 Source: Review copy provided by the publisher in exchange for a fair and honest review.
Josh & Hazel's Guide to Not Dating by Christina Lauren
Hazel Camille Bradford knows she's a lot to take—and frankly, most men aren't up to the challenge. If her army of pets and thrill for the absurd don't send them running, her lack of filter means she'll say exactly the wrong thing in a delicate moment. Their loss. She's a good soul in search of honest fun.
Josh Im has known Hazel since college, where her zany playfulness proved completely incompatible with his mellow restraint. From the first night they met—when she gracelessly threw up on his shoes—to when she sent him an unintelligible email while in a post-surgical haze, Josh has always thought of Hazel more as a spectacle than a peer. But now, ten years later, after a cheating girlfriend has turned his life upside down, going out with Hazel is a breath of fresh air.
Not that Josh and Hazel date. At least, not each other. Because setting each other up on progressively terrible double blind dates means there's nothing between them...right?
***Releases TOMORROW, September 4th, 2018!!***
Okay, so. Wow. This is my first Christina Lauren book. Somehow. I've had friends reccing me their books for YEARS so I don't know why it took me so long. But you know, I'm actually incredibly glad Josh & Hazel was my first--because I LOVED it.
This is a friends to lovers story with an eccentric girl and a solidly nice guy. Hazel was funny and kind and so unapologetic about being herself it was awesome. And Josh is...well. A totally sweet, cinnamon roll man. I loved both of these characters so much.
Together! Together, Josh & Hazel are hilarious and cute and so much fun. I easily FLEW through this book because I was enjoying their dynamic so much. And their relationship growth was beautifully crafted. From acquaintances in college to friends to best friends to more, it was 100% well done and totally my jam.
The two small things making me rate this 4.5 stars instead of 5 are:
1) There was a point in the story where Josh & Hazel are kind of torn on what their next step together will be. They're both trying to sort their heads and feelings out and blah blah blah no spoilers. I feel like my enjoyment wasn't as high at that point--I was mostly reading quickly trying to get through it. HOWEVER, now that I've read it and know I have nothing to fear (in regards to my own tastes) I think I'll like that portion of the novel more upon re-reading.
2) The ending. Namely, how the last chapter ends and then we get an epilogue. It's not a bad epilogue. And I was highly caught up in the events before the epilogue. But that's my problem--I didn't like the jump between those two chapters. I wish we'd gotten to see more with them of that situation instead of hearing about it in summary (kinda) in the epilogue.
All that said, Josh & Hazel's Guide to Not Dating is sweet, funny, and everything I want and more in a friends-to-lovers romance. I loved this book so much--it may have been my first Christina Lauren book, but now it definitely won't be my last. And, quite honestly, I'm thinking this may be one of my favorite books I've read this year. It's definitely a contender at this point!
4.5 stars - A sweet & funny friends-to-lovers romance!
***About the Authors***
Christina Lauren
is the combined pen name of longtime writing partners

Christina Hobbs

and

Lauren Billings

. They are New York Times, USA Today, and #1 international bestselling authors of the Beautiful and Wild Seasons series, Sublime, The House, Dating You/Hating You and the critically acclaimed Autoboyography. Roomies (released December 2017), has been optioned for film by Jenna Dewan's company Everheart Productions, with Christina and Lauren set to write the screenplay.