The fabulous girls over at
YA Bound
created this super HOT meme. Here's how it works.
From the book you're currently reading, or one you just finished, tell us what made you SWOON. What got your heart pounding, your skin tingling, and your stomach fluttering.
Shout it out on Twitter with the hashtag #YABound, post it here in the comments, or grab the adorable button above and share it on your blog! I want to know & so do the chicks at YABound!
One moment of recklessness will change their worlds.
Smart. Responsible. That's seventeen-year-old Breanna's role in her large family, and heaven forbid she put a toe out of line. Until one night of shockingly un-Breanna-like behavior puts her into a vicious cyber-bully's line of fire—and brings fellow senior Thomas "Razor" Turner into her life.
Razor lives for the Reign of Terror motorcycle club, and good girls like Breanna just don't belong. But when he learns she's being blackmailed over a compromising picture of the two of them—a picture that turns one unexpected and beautiful moment into ugliness—he knows it's time to step outside the rules.
And so they make a pact: he'll help her track down her blackmailer, and in return she'll help him seek answers to the mystery that's haunted him—one that not even his club brothers have been willing to discuss. But the more time they spend together, the more their feelings grow. And suddenly they're both walking the edge of discovering who they really are, what they want, and where they're going from here.
Available March 29th from Harlequin Teen
Swoon...
Within the last three inches of meeting me, Razor quickens his pace, slides his body into mine and winds his arms around me. He wastes no time as he lowers his head and kisses me. No, devours me.

His mouth is moving against mine and it's a dance that's easy to follow, easy to get lost in. Tongues exploring, nibbles on top lips, the sucking in of the lower. Razor's hands roam--in my hair, skimming along my spine, winding me tighter and tighter and tighter. (Page 270 of the ARC)
So yummy, this book! Completely love these characters and sexy Razor has become my new favorite book boyfriend.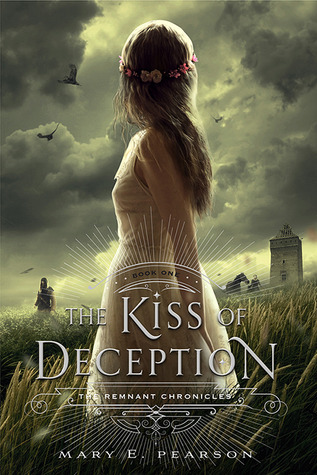 A princess must find her place in a reborn world.
She flees on her wedding day.
She steals ancient documents from the Chancellor's secret collection.
She is pursued by bounty hunters sent by her own father.
She is Princess Lia, seventeen, First Daughter of the House of Morrighan.
The Kingdom of Morrighan is steeped in tradition and the stories of a bygone world, but some traditions Lia can't abide. Like having to marry someone she's never met to secure a political alliance.
Fed up and ready for a new life, Lia flees to a distant village on the morning of her wedding. She settles in among the common folk, intrigued when two mysterious and handsome strangers arrive—and unaware that one is the jilted prince and the other an assassin sent to kill her. Deceptions swirl and Lia finds herself on the brink of unlocking perilous secrets—secrets that may unravel her world—even as she feels herself falling in love.
Swoon...
He closed what gap was left between us, and I had to lift my chin to see him. He looked down at me. "Because ever since that first day I met you, I've gone to sleep every single night thinking about you, and every morning when I wake, my first thoughts are of you." He stepped impossibly closer and lifted his hands, cupping my face, his touch so gentle it was barely there. "When I'm not with you, I wonder where you are. I wonder what you're doing. I think about how much I want to touch you. I want to feel your skin, your hair, run every dark strand through my fingers. I want to hold you, your hands, your chin." His face drew nearer, and I felt his breath on my skin. "I want to pull you close and never let you go," he whispered.
I JUST finished this book, and I am so head over heels for this story. The writing is stunning, and the romance killed me. I AM IN LOVE. I AM SO INCREDIBLY IN LOVE. Thank goodness I have book two on hand for whenever I can work up the courage to dive in!
Those are our swoons for this week! What do you think? Do you have a swoon to share? Leave us a comment and link us up!