This is a weekly bookish meme hosted by MizB at Should Be Reading.
* Share two (2) "teaser" sentences from somewhere on that page
* BE CAREFUL NOT TO INCLUDE SPOILERS!
(Make sure that what you share doesn't give too much away! You don't want to ruin the book for others!)
* Share the title & author, too, so that other TT participants can add the book to their TBR Lists if they like your teasers!
She's about to make a deal with the college bad boy...
Hannah Wells has finally found someone who turns her on. But while she might be confident in every other area of her life, she's carting around a full set of baggage when it comes to sex and seduction. If she wants to get her crush's attention, she'll have to step out of her comfort zone and make him take notice...even if it means tutoring the annoying, childish, cocky captain of the hockey team in exchange for a pretend date.
...and it's going to be oh so good
All Garrett Graham has ever wanted is to play professional hockey after graduation, but his plummeting GPA is threatening everything he's worked so hard for. If helping a sarcastic brunette make another guy jealous will help him secure his position on the team, he's all for it. But when one unexpected kiss leads to the wildest sex of both their lives, it doesn't take long for Garrett to realize that pretend isn't going to cut it. Now he just has to convince Hannah that the man she wants looks a lot like him.
Teaser...
Then he flashes that boyish grin, and damned if I don't cave. He really has mastered that little boy look. Except he's not a little boy. He's a man with a big, strong body and a chin that lifts in determination. Teasing grins aside, I know Garrett will harass me all night if I don't agree to sing. (Kindle Location 1158)
This book is awesome! So love Garrett. I read it straight through!!!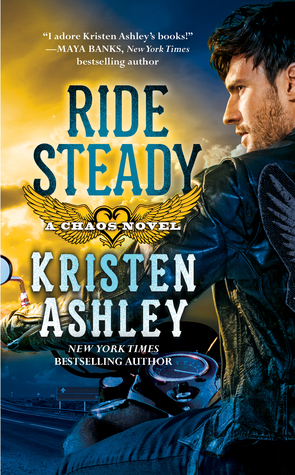 The ride of her life . . .
Once upon a time, Carissa Teodoro believed in happy endings. Money, marriage, motherhood: everything came easy---until she woke up to the ugly truth about her Prince Charming. Now a struggling, single mom and stranded by a flat tire, Carissa's pondering her mistakes when a vaguely familiar knight rides to her rescue on a ton of horsepower.
Climb on and hold tight . . .
In high school, Carson Steele was a bad boy loner who put Carissa on a pedestal where she stayed far beyond his reach. Today, he's the hard-bodied biker known only as Joker, and from the way Carissa's acting, it's clear she's falling fast. While catching her is irresistible, knowing what to do with her is a different story. A good girl like Carissa is the least likely fit with the Chaos Motorcycle Club. Too bad holding back is so damned hard. Now, as Joker's secrets are revealed and an outside threat endangers the club, Joker must decide whether to ride steady with Carissa---or ride away forever . . .

Teaser...
"I think that was my first Mommy," I shared with glee.
"Sounded like that to me," Joker agreed.
But I was staring at him feeling even more glee.
Because for the first time since I'd met him, he was grinning.
He wasn't biker handsome.
No.
He was biker amazing.
I wanted to get up and jump up and down, for a number of reasons.
Instead, I shared, "I think that's early."
"Kid's a genius."
Oh, how I love Kristen Ashley's books. This one is making me feel all happy pants. Especially now that Joker's coming around. I love the Club, and I love Travis, and I love this couple. So freaking cute! Why did I wait so long to dive into this one?
Those are our teasers for this week! What do you think? Do you have a teaser to share? Leave us a comment and link us up!