This is our version of Waiting on Wednesday but with more cuddles, books we can't wait to cuddle for various reasons.
What are we waiting on this week? THIS!
For fans of Red Queen, Dividing Eden, and Six of Crows comes a stunning new fantasy epic about an outcast girl, the boy she loves, and the kingdom that has torn them apart.
They call her Traitor Kate. It's a title Kate Brighton inherited from her father after he tried to assassinate the high king years ago. Now Kate lives as an outcast, clinging to the fringes of society as a member of the Relay, the imperial courier service. Only those most skilled in riding and bow hunting ride for the Relay; and only the fastest survive, for when dark falls, the nightdrakes—deadly flightless dragons—come out to hunt. Fortunately, Kate has a secret edge: she is a wilder, born with magic that allows her to influence the minds of animals. But it's this magic that she needs to keep hidden, as being a wilder is forbidden, punishable by death or exile. And it's this magic that leads her to a caravan massacred by nightdrakes in broad daylight—the only survivor her childhood friend, her first love, the boy she swore to forget, the boy who broke her heart.
The high king's second son, Corwin Tormane, never asked to lead. Even as he waits for the uror—the once-in-a-generation ritual to decide which of the king's children will succeed him—he knows it's always been his brother who will assume the throne. And that's fine by him. He'd rather spend his days away from the palace, away from the sight of his father, broken with sickness from the attempt on his life. But the peacekeeping tour Corwin is on has given him too much time to reflect upon the night he saved his father's life—the night he condemned the would-be killer to death and lost the girl he loved. Which is why he takes it on himself to investigate rumors of unrest in one of the remote city-states, only for his caravan to be attacked—and for him to be saved by Kate.
With their paths once more entangled, Kate and Corwin have to put the past behind them. The threat of drakes who attack in the daylight is only the beginning of a darker menace stirring in the kingdom—one whose origins have dire implications for Kate's father's attack upon the king and will thrust them into the middle of a brewing civil war in the kingdom of Rime.
From the acclaimed author of Avalon comes a breathless, adventurous, romantic, and thrilling journey into a fantasy world you won't soon forget.
On sale 5/15/18 from Balzer + Bray (HarperCollins)
"At once fresh, at once classic, Onyx and Ivory is a page-turning blend of monsters, magic, and romance." —Susan Dennard, New York Times bestselling author of Truthwitch
Why am I waiting? The cover drew me to it. Then the blurb got my interest. Looks like an amazing read. What do you think?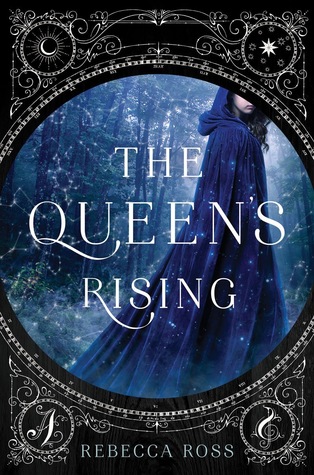 When her seventeenth summer solstice arrives, Brienna desires only two things: to master her passion and to be chosen by a patron.
Growing up in the southern Kingdom of Valenia at the renowned Magnalia House should have prepared her for such a life. While some are born with an innate talent for one of the five passions—art, music, dramatics, wit, and knowledge—Brienna struggled to find hers until she belatedly chose to study knowledge. However, despite all her preparations, Brienna's greatest fear comes true—the solstice does not go according to plan and she is left without a patron.
Months later, her life takes an unexpected turn when a disgraced lord offers her patronage. Suspicious of his intent, and with no other choices, she accepts. But there is much more to his story, and Brienna soon discovers that he has sought her out for his own vengeful gain. For there is a dangerous plot being planned to overthrow the king of Maevana—the archrival kingdom of Valenia—and restore the rightful queen, and her magic, to the northern throne. And others are involved—some closer to Brienna than she realizes.
With war brewing between the two lands, Brienna must choose whose side she will remain loyal to—passion or blood. Because a queen is destined to rise and lead the battle to reclaim the crown. The ultimate decision Brienna must determine is: Who will be that queen?
Releases February 6th, 2018 from HarperTeen!
Why am I waiting? I actually hadn't heard much about this book until this past Thursday. I was at a book signing for Amie Kaufman & Meagan Spooner and chatting with my lovely friend
Vilma
. She said she recently read this book and LOVED IT. Vilma has a great taste in books. And if she LOVED this one, obviously I had to look it up. So I did and y'all, The Queen's Rising sounds fantastic! Cannot wait to get this fantasy in my hands!!
That's what we're waiting on this week! What do you think? What are you waiting on? Leave us a comment and link us up!