Who doesn't LOVE a good swoon?! We love them for sure! Check out our swoon below and then add to the fun.
Post anything that made you swoon, past or present read. Include the cover, blurb and links. Please no spoilers.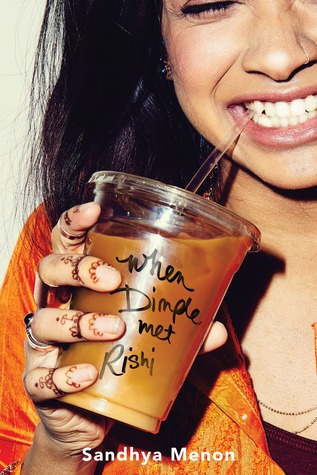 Dimple Shah has it all figured out. With graduation behind her, she's more than ready for a break from her family, from Mamma's inexplicable obsession with her finding the "Ideal Indian Husband." Ugh. Dimple knows they must respect her principles on some level, though. If they truly believed she needed a husband right now, they wouldn't have paid for her to attend a summer program for aspiring web developers…right?
Rishi Patel is a hopeless romantic. So when his parents tell him that his future wife will be attending the same summer program as him—wherein he'll have to woo her—he's totally on board. Because as silly as it sounds to most people in his life, Rishi wants to be arranged, believes in the power of tradition, stability, and being a part of something much bigger than himself.
The Shahs and Patels didn't mean to start turning the wheels on this "suggested arrangement" so early in their children's lives, but when they noticed them both gravitate toward the same summer program, they figured, Why not?
Dimple and Rishi may think they have each other figured out. But when opposites clash, love works hard to prove itself in the most unexpected ways.
Swoon...
He felt the warmth of her rushing over him, through him. Her eyes were huge behind her glasses, luminous even. "Dimple Shah...I really like you, too." He pressed his lips lightly against hers as he kept talking. He felt her shiver again, and he smiled against her mouth. "And I would be honored if this turned into a real date."
Her lips parted against his. And then he was lost in her.
This book is so cute and so so so sweet!
That's our swoon this week! What about you? Leave us a comment & a link.