This is a weekly bookish meme hosted by MizB at
Should Be Reading
.
To participate you:
* Grab your current read
* BE CAREFUL NOT TO INCLUDE SPOILERS!
(Make sure that what you share doesn't give too much away! You don't want to ruin the book for others!)
* Share the title & author, too, so that other TT participants can add the book to their TBR Lists if they like your teasers!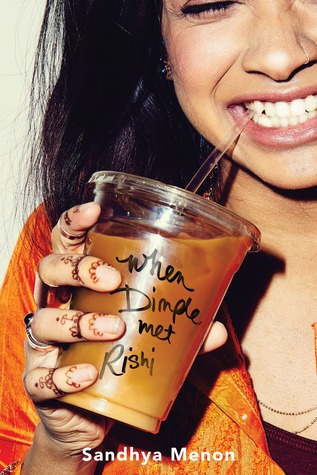 Dimple Shah has it all figured out. With graduation behind her, she's more than ready for a break from her family, from Mamma's inexplicable obsession with her finding the "Ideal Indian Husband." Ugh. Dimple knows they must respect her principles on some level, though. If they truly believed she needed a husband right now, they wouldn't have paid for her to attend a summer program for aspiring web developers…right?
Rishi Patel is a hopeless romantic. So when his parents tell him that his future wife will be attending the same summer program as him—wherein he'll have to woo her—he's totally on board. Because as silly as it sounds to most people in his life, Rishi wants to be arranged, believes in the power of tradition, stability, and being a part of something much bigger than himself.
The Shahs and Patels didn't mean to start turning the wheels on this "suggested arrangement" so early in their children's lives, but when they noticed them both gravitate toward the same summer program, they figured, Why not?
Dimple and Rishi may think they have each other figured out. But when opposites clash, love works hard to prove itself in the most unexpected ways.
Teaser...
"Hello, future wife," he said, his voice bubbling with glee. "I can't wait to get started on the rest of our lives!"
Dimple stared at him for the longest minute. The only word her brain was capable of producing, in various tonal permutations, was: What? What?
Dimple didn't know what to think. Serial killer? Loony bin escapee? Strangely congenial mugger? Nothing made sense. So she did the only thing she could think to do in the moment--she flung her iced coffee at him and ran the other way.
So I read the beginning of this book last week when deciding what to read next and though I chose a different book to start, Dimple and Rishi have been on my mind ever since so I'm starting When Dimple Met Rishi now -- and I am so excited! I can already tell I'm going to adore this story :)
That's our teaser for this week! What do you think? Do you have a teaser to share? Leave us a comment!